AOIR Conference - "Decolonising the Internet"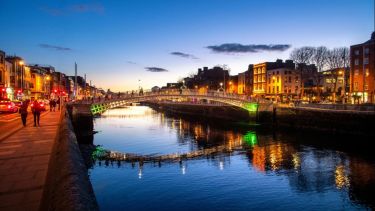 University of Dublin, Ireland | 2nd-5th November
The 2022 AoIR conference, hosted by 4 institutions, Technological University Dublin (TU Dublin), Maynooth University (MU), University College Dublin, and Dublin City University (DCU), will explore research on new colonising forces. The event will specifically focus on multinational tech giants who are re-fashioning the world in their own image and focus on practices and processes for decolonising the internet and internet research, asking participants to consider how we can de-centre white European and North American narratives about the internet, its cultures, its economies, and its infrastructures. 
You can read more about the conference theme here.
---
How will our team be participating?
| Hannah Ditchfield, Helen Kennedy (& Susan Oman) - Does fairness matter? Situating fairness in people's perceptions of everyday data uses.
| Monika Fratczak - Do emotional responses to visual data mobilise people to act? A case study of climate change visualisations in different national contexts.
| Ysabel Gerrard (& various others) - The impact of impact roundtable: Contending with the risks and rewards of public engagement.
| Tim Highfield (& Kate Miltner): Platformed solidarity - Gestural social justice through twitter hashflags.
| Beckie Ruddock (PhD student) - Exploring the algorithmic experiences of self-employed women through the lens of inequalities (accepted for PhD student colloquium).
| Stefania Vicari and Hannah Ditchfield: Stefania and Hannah reflect on empirical work from their Leverhulme-funded project "Previvorship" in their talk entitled: "You can't see it but it's a matter of life and death." Of platforms, power and the invisible.
---
I am really excited and looking forward to attending the AoIR conference with my colleagues from the Department of Sociological Studies! I will be attending and presenting for the first time at this conference and I am sure it will be a very inspiring few days as it brings together leading scholars for an interdisciplinary, multi-methodological look at the Internet.

Monika Fratczak

Teaching Associate
This is such a fantastic opportunity for me to discuss the theoretical and methodological challenges of my project with experts in the field, as well as fellow PhD students. It will also be my first experience of attending a conference in person! I'm really looking forward to attending the talks throughout the conference and embracing the opportunity to network with fellow scholars.

Beckie Ruddock

PhD Student
---
About AOIR
The Association of Internet Researchers is a member-based, academic association dedicated to the promotion of critical and scholarly Internet research independent from traditional disciplines and existing across academic borders. AOIR22 is the 23rd Annual Meeting of the association. 
Flagship institutes
The University's four flagship institutes bring together our key strengths to tackle global issues, turning interdisciplinary and translational research into real-world solutions.