Preparing for your Social Work Interview
We've put together a handy guide, full of useful information, advice and further resources for our MA Social Work interview.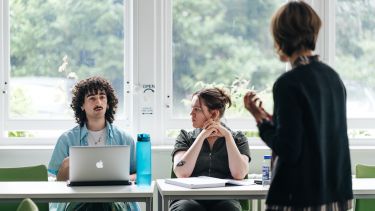 Off
Why have I been invited to interview?
Your invitation to interview is based upon the success of your UCAS application, wherein you were able to demonstrate your eligibility (qualifications and prior experience) and interest in this programme. Social work is a difficult, demanding yet rewarding profession and the reason we invite you to interview is to assess your suitability to:
Study at postgraduate level and;
Undertake practical training to become a qualified Social Worker. 
A Social Work interview is a two way process. Whilst we assess your suitability and potential to succeed on this programme, you have an opportunity to ask questions and explore what the University of Sheffield has to offer you.
The decision to offer you a place on the MA Social Work programme is dependent on your assessment at;
Interview
Written assessment.
What can I expect to happen during my interview?
The interview will take place online, unless there are particular reasons why you require an in person interview, in which case you need to advise us when we send an invitation to interview. 
When you log into the interview you will be taken to a virtual waiting room - the interview panel will be able to see that you are waiting and will grant you access to your interview. Please remember that the panel is usually interviewing several people on the same day, which can result in minor delays, so please be patient. 
The interview panel will consist of:
Chair, who represents the MA Social Work programme at the University of Sheffield
Social Work practitioner working for one of our local authority partners. 
The panel members will introduce themselves and the Chair will explain the interview process. At the start of your interview you will be invited to deliver a three minute presentation based on a preparatory task we will send you 15 minutes prior to your interview commencing.  Following your presentation, you will be asked a series of questions by both members of the panel. The questions are designed to find out why you are interested in Social Work, how this relates to your skills and experience, combined with your understanding of the profession. Please see the recommended reading in the interview checklist. Once the panel has completed their questions, you will be invited to ask any questions you have about the course, studying at the University or life in Sheffield.
What can I expect from the written assessment?
On the day of your interview you will also undertake an online written assessment. You will receive via email:
an article to read,
a set of instructions to guide you in undertaking your written assessment, 
declaration that the written assessment is your own work.
The assessment will last approximately one hour, after which time you will email your response and the declaration to the Admissions Assistant.
How can I prepare?
In order to ensure you feel fully prepared for your interview, we've put together a handy checklist you can download and complete, to help you relax and feel confident ahead of your interview.
Where can I find information on funding?
Prior to the interview we also recommend researching possible funding options should you be offered a place on the course. There are a number of options available to both home and international students. You can also contact the University of Sheffield Funding and Fees team via email should you have any questions: financialhelp@sheffield.ac.uk
Further Information on Fees and Funding
What will happen after my interview?
If you are successful, you will then receive a formal offer from the University of Sheffield's Central Admissions team via UCAS. Depending on the circumstances of your offer, this could be conditional or unconditional. 
We would advise you to confirm the University of Sheffield as your firm choice on UCAS as soon as possible. Once you have confirmed your offer, it's time to start thinking about accommodation and applying for funding. 
Further Information on studying at The University of Sheffield
DBS Check & Occupational Health  
One of the requirements for the MA Social Work programme is to complete both a Disclosure and Barring Service (DBS) and an Occupational Health check. The Admissions Assistant within the Department will contact you to begin these checks following induction week in September. These checks are essential in order for you to begin your Social Work practice placement. 
Contact Us
If you have any questions that aren't answered on this page, please do feel free to contact us using the details below.
Weekly online events
Attend an online event when it suits you, all year round, as an alternative to an open day.
Every Wednesday, Sheffield Live sessions cover different aspects of University life. You can also meet your department and learn more about studying your subject.