Celebrating Muslim women's writing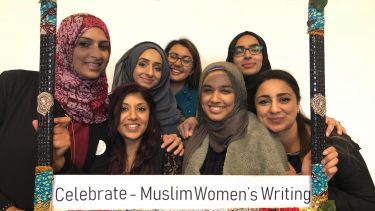 Glasgow Women's Library (GWL) is a partnership between the Storying Relationships project, GWL and Stellar Quines Theatre Company, supported by The Al-Waleed Centre, Edinburgh University.
The Storying Relationships project and the Glasgow Women's Library drew together a sell-out audience to celebrate British Muslim women's writing. The event was opened with a beautiful Arabic recital by one of our attendees, 22-year old Madinah Javed from the #femalereciters initiative. The project invited guest author Sufiya Ahmed, author of Secrets of the Henna Girl, to give a guest speech on her experiences as a published Muslim writer and author. 
The event celebrated the work created by young British Muslim women aged between 16-30 years who attended a number of creative writing workshops from January to July 2018. Creative workshops were facilitated by Sara Shaarawi who led a series of playwriting workshops, fiction writing with Safina Mazhar and blogging workshops with Faiza Yousaf and Talat Yaqoub.
The event was also supported by the Al-Waleed Centre from the University of Edinburgh, who in collaboration with Stella Quines Edinburgh Theatre Company, supported our young people's plays to be enacted by professional actors including Atta Yaqub, Maryam Hamidi, Taqi Nazeer, Mandy Bhari and Lubna Kerr. 
The celebration event was well received, with many attendees surprised and overwhelmed by the quality of the writing pieces created by young Muslim women. Many of our participants are new to fiction, playwriting and blogging and really achieved a substantial amount through their dedication and commitment to the workshops. Some of our participants are now keen to pursue writing independently - watch this space for new emerging Muslim writers!
The Storying Relationships project would like to share a huge thank you to all of our participants for sharing their work, helping out at the event and to our project partners for the fantastic collaborative work we have achieved and disseminated in Scotland.
Events at the University
Browse upcoming public lectures, exhibitions, family events, concerts, shows and festivals across the University.