The Storying Relationships project has worked with a number of writers, authors, playwrights, actors and bloggers over the course of the 3-year Arts and Humanities Research Council project, with the aim to engage young Muslim men and women in creative writing.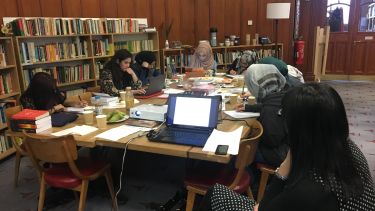 Below are a few project creatives involved in various ways in Glasgow, Bradford, Sheffield and Rochdale.
---
Our project creatives
Sufiya Ahmed
Sufiya is a full-time author and her published works include Secrets of the Henna Girl and It's not about the Burqa. Sufiya was a guest speaker at the Storying Relationships Muslim Women Write event and shared her experiences of writing and publishing. Sufiya continues as a partner for the project and is working closely with the team on A Match Made in Heaven project anthology. 
Stacy Bias
Stacy is a fat activist, artist and animator living in London. Stacy is known for her Flying While Fat animation and worked on the project, with young Muslim men and women, to create the Storying Relationships film 'Halal Dating: An Animated Conversation from the Storying Relationships Project'.
Afshan D'Souzi Lodhi
Afshan is from Manchester and of Pakistani/Indian descent. Afshan writes performance pieces, plays and prose and has worked with various theatre companies. Afshan hosted a series of weekly workshops with college students in Sheffield and engaged young Muslim students in creative writing and short storying.  
Kamal Kaan
Kamal is a writer and actor. He writes for drama, theatre, television and radio. Kamal is a project partner and originally from Bradford. He graduated from Cambridge University and was awarded the Brian Park Scholarship to undertake an MA in TV Fiction Writing at Glasgow Caledonian University. Kamal is listed in Prolific North top scriptwriters 2017 and was part of the BBC Writersroom Drama Room 2017.
Safina Mazhar
Safina is a fantasy fiction writer and the author of the Power of Four series. Her first book Run to Earth is her debut novel. Safina lives in Glasgow and hosted our short story, fiction workshops at the Glasgow Women's Library. Safina actively encouraged women in the workshops to write and share their experiences and views through their creative writing.
John Siddique
John is a poet, essayist and author. He is the author of Full Blood, Recital – An Almanac, Poems From A Northern Soul, and The Prize. John hosted creative writing workshops on the topic of 'Writing about Love and Relationships' in Bradford.  
Sara Shaarawi
Sara is an Egyptian playwright and producer. Known for her Scottish theatre, Sara hosted the first series of workshops on playwriting at the Glasgow Women's Library. Sara also collaborated with Stella Quines Theatre in Edinburgh on behalf of the project to host readings on the plays created by Muslim women at the Women's Writing project celebration event. Actors included Atta Yaqub, Lubna Kerr, Maryam Hamidi, Taqi Nazeer and Mandy Bari. This collaboration includes funding from Stella Quines, Storying Relationships and the Al-Waleed Centre, Edinburgh University.
Talat Yaqoob
Talat is Director of Equate Scotland and has a background in public affairs, campaigning, social research and training and development across equalities issues. Talat is a keen blogger and hosted two of our four blogging workshops with Muslim women in Glasgow. 
Atta Yaqub
Atta is a Scottish Pakistani actor, known for his role in Ae Fond kiss (2004) and T2 Trainspotting (2017). Atta performed at the Storying Relationships Muslim Women Write event, in association with Stella Quines and facilitated film workshops for Muslim men in Glasgow.
Faiza Yousaf
Faiza is the host of the blogging site 'Life of Fai' and actively blogs about the mishaps of love as a Muslim woman. Posts include dating, divorce and general musings. Faiza's most recent post is on dating and titled 'When Fai met Dave...'. Faiza hosted the final two blogging workshops and shared her experiences of blogging, drawing out uncomfortable silences in relationships issues and tips on how to set up successful blogging websites.