A comprehensive list of who is involved in the project and how to contact them.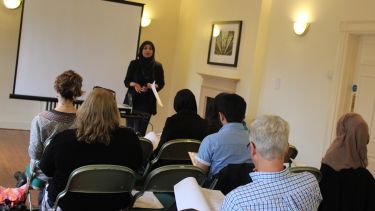 ---
University of Sheffield
Principal Investigator: Professor Richard Phillips
Professor Richard Phillips has research interests spanning a series of contrasting yet connected themes. These include 'The World after Empire: themes include Muslim geographies and postcolonial cities', 'Sexuality, Space and Power: constructions and contestations of sexual identities' and 'Curiosity and Adventure: from children's books to health and wellbeing policies'. His recent publications include 'Mobilizing Pakistani heritage, approaching marriage' and 'Georges Perec's Geographies'.
Postdoctoral Research Associate, project lead researcher: Dr Nafhesa Ali
Nafhesa Ali's research interests include gender, age, the life course and working with innovative research methods. Nafhesa was Project Manager for the Asian Voices Oral History Project and was the sole editor for the book Asian Voices: First Generation Migrants. Nafhesa's latest journal paper is titled 'Halal Dating: Changing Relationship Attitudes and Experiences among Young British Muslims', forthcoming in Sexualities. 
Research Associate: Dr Kristina Diprose
Kristina's interests span across intergenerational social research alongside ethnographic, knowledge co-production and participatory arts practice. She is the lead co-author for a forthcoming book on Climate Change, Consumption and Intergenerational Justice: Lived Experiences from China, Uganda and the UK (Bristol University Press 2019).
---
University of York
Research Associate: Dr Indrani Karmakar
Indrani Karmakar has received her PhD from the Department of English and Related Literature at the University of York. Her research interests include Women's Writing, Feminist Theory, Motherhood, and South Asian Literature. She is social media editor of the Journal of Commonwealth Literature.
Co-Investigator: Dr Claire Chambers
Claire Chambers is Senior Lecturer at the University of York and co-investigator. Her research interests include contemporary writing in English from South Asia, the Arab world, and their Diasporas. Claire's publications include British Muslim Fictions: Interviews with Contemporary Writers and co-editor of Imagining Muslims in South Asian and the Diaspora. She recently published her third book, Britain Through Muslim Eyes: Literary Representations, 1780-1988 (Palgrave, 2015).
---
Newcastle University
Co-Investigator: Prof Peter Hopkins
Peter Hopkins is Professor of Social Geography at Newcastle University and co-investigator. His research interests include feminist geographies of race, ethnicity and religion, young people's geographies and the intersections between masculinities and ethnicities. Peter co-edited Geographies of Muslim Identities (Ashgate, 2007) and Muslims in Britain (Edinburgh University Press, 2009).
Co-Investigator: Dr Raksha Pande
Raksha Pande is Lecturer in Geography at Newcastle University and co-investigator for Storying Relationships. Her research interests explore the study of gender relations masculinity and the politics of marriage and intimacy. Her publications include 'Geographies of marriage and migration: Arranged marriages and South Asians in Britain' and Becoming modern: British-Indian discourses of arranged marriages.