Creative writing celebration event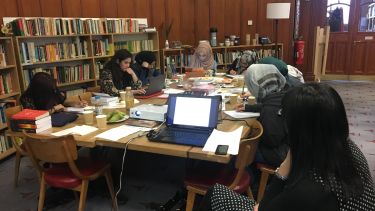 Glasgow Women's Library, Landressy Street, Glasgow, G40 1BP
Saturday 29 September 2018, time TBC.
---
Join us for afternoon tea and to celebrate the series of creative writing workshops that Storying Relationships and Glasgow Women's Library have been hosting in 2018.
Creative writing workshops at the Women's Library, in Partnership with the Storying Relationships project, have included playwriting, fiction and blog-writing workshops for young Muslims aged 16-30 years old. We will be celebrating all the hard work and dedication our participants have shown to the workshops by showcasing a fantastic array of literary work in both performance and written word. We will be hosting a premier of written word from the participants and showcasing a performance with Edinburgh theatre company Stellar Quines who will be acting out the plays written by young British Muslim women.
The celebration event will also be inviting guest speakers who include Sufiya Ahmed author of Secrets of the Henna Girl; Safina Mazhar author of The Power of Four series; Writer and playwright Sara Shaarawi and talks from the University of Sheffield's Storying Relationships team.
This is a free event, but places are limited. We are currently taking bookings, so please reserve your place by email to Dr Nafhesa Ali at n.ali@sheffield.ac.uk.
We look forward to seeing you there, and it promises to be a fun-filled event with laughs, tears and creative writing that will leave you wanting to know more!
Events at the University
Browse upcoming public lectures, exhibitions, family events, concerts, shows and festivals across the University.