Creative writing sessions with Safina Mazhar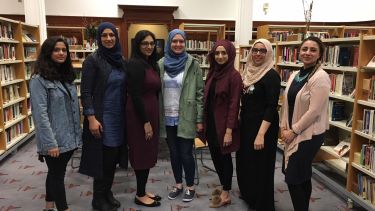 Safina Mazhar is the author of the Power of Four Series.
Join us at the Glasgow Women's Library every Saturday in March 2018 for FREE creative writing workshop sessions with Safina Mazhar, author of the fantasy fiction series Power of Four Series. The first book, Run To Earth is her debut novel. Safina will be hosting creative writing workshops and sharing her expertise in how to develop your fiction writing skills. She will also be on hand to speak about her own experiences in fiction writing and to encourage participants to develop their own fiction piece.
In partnership with the Storying Relationships project, we will be exploring themes in creative writing that delve into Pakistani Muslim relationship practices. Over four sessions participants will create a piece of fiction writing to be submitted and published in the Storying Relationships anthology. Safina will then be on hand to provide one-to-one editing for participants to complete and submit their pieces for selection in a published anthology.
For more information or to book you place email Dr Nafhesa Ali n.ali@sheffield.ac.uk.
Please reserve your place in advance as places are limited.
Events at the University
Browse upcoming public lectures, exhibitions, family events, concerts, shows and festivals across the University.