The Armed Forces Covenant
The University of Sheffield is an armed forces friendly organisation, and signed the Armed Forces Covenant on 30 March 2022.

The Armed Forces Covenant ensures members of the Armed Forces community are treated fairly in our communities, economy and society.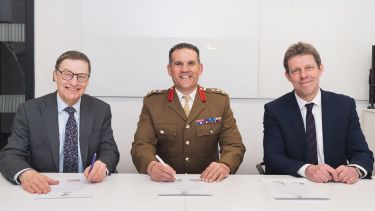 For the University of Sheffield, this means ensuring we meet the particular needs of students from military families, many of which have been non-static. Fewer children from Armed Forces families progress to higher education than their peers, and we recognise how factors such as mobility, separation, wellbeing and caring responsibilities result in a different experience for our students from service backgrounds. 
We are committed to recognising the specific needs of students and staff from Armed Forces backgrounds, supporting them to ensure they face no disadvantage compared to their peers.
The University has committed to undertaking the following activities and work:
Supporting the employment of veterans, recognising military skills and qualifications in our recruitment and selection process and supporting the employment of Service leavers
Offering a degree of flexibility in granting leave for Service parents, spouses and partners
Supporting employees who are members of the Reserve Forces, including accommodating their training and deployment where possible
Supporting employees who are volunteer leaders in military cadet organisations and offering work experience opportunities for University of Sheffield students who are members of an affiliated Cadet unit
Participating in remembrance services annually to honour members of the Armed Forces who have died in the line of duty
Supporting Armed Forces community charities
About the Armed Forces Covenant
The Covenant was introduced in 2000 into public life to refer to the mutual obligations between the nation and its armed forces.
It is "a pledge that together we acknowledge and understand that those who serve or who have served in the armed forces, and their families, should be treated with fairness and respect in the communities, economy and society they serve with their lives."
Information on the businesses, charities and organisations are signatories to the Covenant can be found at: https://www.armedforcescovenant.gov.uk/get-involved/who-has-signed-the-covenant/
Further information