Cities and Global Development students attend Workshop in Hargeisa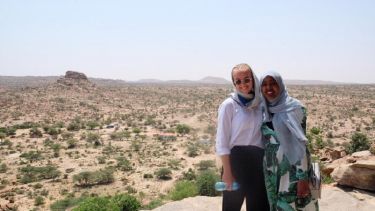 The summerLab looks at how the city can be used as a laboratory for developing socially responsive design measures. The workshops, which took place in a range of cities including Jerusalem, Athens and London, are geared toward students and emerging professionals with a keen interest in the urban environment.
Find out more about Natasha and Sahra's experiences below.
Natasha Marjoram
"DPU summerLab stood out as a fantastic opportunity to explore the city of Hargeysa. The rapidly urbanising capital city of Somaliland, Hargeysa is consistently presented in a negative light within media discourses. I saw the workshop as an opportunity to understand the city outside of preconceptions bred by the media. Upon visiting Hargeysa, I was faced with a contrasting image of Somaliland.
"Like any other city, it faces its issues. However, I was blown away by the friendliness of the locals and their determination to confront urban issues; whether these were related to ethnic segregation along clan lines, issues with land ownership in a post conflict setting or the use or misuse of public space.
"SummerLab was a really great way to tie together everything I had learned during my Masters in Cities and Global Development. It allowed me to build on research skills which I had utilised and adapted as part of the course. As part of a group, we were able present our methods and findings to a group of urbanists, activists and fellow students, on the penultimate day of the workshop.
"The way I conceptualised Hargeysa was also informed by a more socialised view of cities, which I built upon during my course. This perspective encouraged me to think about how the city was used differently by different people, with stark contrasts emerging between those who were marginalised and those populations who enjoy more integration into society.
"The workshop also taught me new lessons. As part of such a diverse group of DPU summerLab participants, I enjoyed a range of different perspectives which my fellow participants brought to discussions.
"I learnt how to broach more sensitive issues, such as gender and ethnic/clan segregation, with participants with different values and traditions to my own. In doing so, I believe we forged a space where all perspectives were welcomed, encouraging diverse and invaluable discussions among both local and international urbanists."
Sahra Hersi
"After being alerted by my course director about the DPU SummerLab Workshop in Hargeisa, I saw this as an amazing opportunity as is suited my academic interests very well. The workshop aimed to explore social cohesion in a spatially segmented city that is still recovering from conflict. My Masters dissertation research was based on how the Somaliland diaspora influence land dynamics in Hargeisa. Thus, I wanted to explore the topic of land in the local context rather than seeing it from a transnational lens.
"Cities and Global Development prepared me well for the SummerLab as I used skills/ methods gained during the Durban field trip to explore another African city. My academic training whilst conducting field work helped in keeping ethical consideration at the forefront of capturing data as Hargeisa is a post conflict city. Hence sensitive issues arise during conversations with the public. Furthermore the training on 'positionality' assisted me in being reflexive throughout the process as due to being a member of the Somaliland diaspora, I was both an insider and outsider.
"The challenges I faced as a junior urban development practitioner is that Hargeisa is post conflict city that is very underdeveloped. Whilst also holding the unique title of being the capital of an unrecognised country. Due to this at times as an urban planner I felt dialogue was not open enough to explore a sensitive issue like 'land dynamics' or 'social cohesion'.
"Stakeholders in Somaliland may feel that any dialogue that can be categorised as criticism/negative may challenge any gains that have been accrued for international recognition. Due to Somaliland's unique position in the international order, I learnt that very specific contextualised challenges will arise for planners and development practitioners working in the city.
"The highlight of the programme was working with both local and international architects/ urban planners. Learning from colleagues about their individual perspectives on how they viewed the city and how it could be improved was highly insightful. I made a strong network of like minded people within the same profession, some becoming good friends. It was an amazing experience which provided me insights to what it may be like working as an international urban development practitioner in the Horn of Africa."
A global reputation
Sheffield is a research university with a global reputation for excellence. We're a member of the Russell Group: one of the 24 leading UK universities for research and teaching.