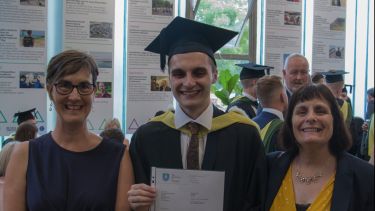 The Director of Undergraduate Programmes, Dr Paula Meth, gave a speech at the reception to a room full of staff, students and family, and she thanked the parents, guardians and friends of those who were graduating for their support.
Dr Meth also handed out the departmental prizes. Daniels Saakjans won the John Richings James Book Prize for Best Student in Level 3, while Daniel Ramsay won the RTPI Prize Nomination for Best Student in Level 4. Rowan Gilbert was awarded the ADH Crook Prize for Contributions towards Social Justice in Planning.
National planning and development consultancy Turley is proud to sponsor two prizes which recognise excellence and nurture the talent of future planning professionals. The Turley Prize for Best Performance at Level 1 was awarded to Alister Maguire, and the Turley Prize for Best Dissertation at Level 3 was shared between John Land and Ben Hackeson.
Head of Planning North at Turley, Stephen Bell said: "It's important to support the next generation of planners as they start out in their careers, so we're really pleased to continue our sponsorship of the prizes which are awarded to students who have excelled in their field of study. We look forward to seeing great things from the winners when they embark on their professional journeys."
A world top-100 university
We're a world top-100 university renowned for the excellence, impact and distinctiveness of our research-led learning and teaching.