Dr Olayiwola Oladiran wins Special Achievement Award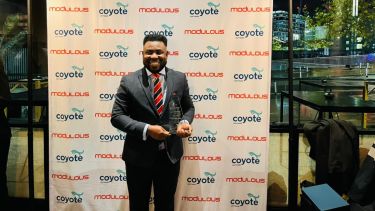 Property Technology refers to the application of technology to real estate in order to increase efficiency within the industry. The UK PropTech Association (UKPA) Special Achievement Award is for a professional who has made a significant impact on the PropTech industry through their work and helped to move the industry forward. 
Dr Oladiran was selected as the winner of this category due to his work in advancing PropTech and real estate innovations through his research and pedagogical contributions. The category consisted of eight nominees of industry leaders and outstanding contributors.
He said "It is an honour to receive the 2022 UK PropTech Association Special Achievement Award."
The awardee led the development of the PropTech Education Integration Framework (PEIF) which proposed the integration of PropTech in the real estate curriculum and further provided a support guide for educators seeking to integrate the subject into their programmes. 
He has also actively integrated PropTech and real estate innovation in his own teaching delivery and developed a new Postgraduate PropTech and real estate innovations module at the Urban Studies and Planning Department at the University of Sheffield. In addition to these, the awardee is actively collaborating with the UKPA and industry members on research and insight advancement.
Dr Oladiran said "PropTech is an emerging real estate area and there are still several uncharted areas. I aim to continue to explore these areas and to collaborate with the UKPA and its members to advance innovation and digital technology in real estate through my research. I will also continue to support students in the built environment to be innovators and change drivers."
Dr Oladiran stresses the importance of innovation and digitisation of PropTech and how, through consideration of the ways in which digitisation is changing sectors and approaching our traditional practices with innovative mind sets, we can embrace change and progress with our everchanging digital climate. 
Events at the University
Browse upcoming public lectures, exhibitions, family events, concerts, shows and festivals across the University.