Experiential planning education with Southern partners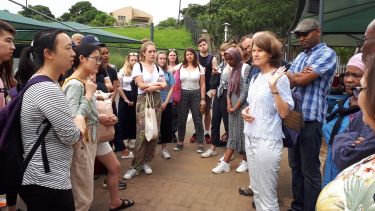 Philipp Horn, Paula Meth and Gabriel Silvestre have written about their experience of running a virtual field trip and experiential planning education with Southern partners.
Read full article [PDF]Planning programmes in UK universities and accrediting bodies such as the Royal Town Planning Institute are committed to promoting just, equitable, and sustainable global urban futures. Toward this end, more attention is being paid to realities in the global South where urbanisation occurs at an unprecedented level and where there is a need for planning professionals with the relevant skills and knowledge base to assist in making urban places that leave no one behind.
As academics point out the limitations of universal planning fixes as well as uni-directional North-South learning and policy transfers, the need for the co-production of context-relevant knowledge and more equitable North-South partnerships moves centre stage. Meanwhile, as students increasingly demand the decolonisation of their curriculum, planning departments must consider new teaching approaches that incorporate multiple types of academic and non-academic knowledge and more experiential learning experiences outside the university classroom.
In our own teaching in the Department of Urban Studies and Planning at the University of Sheffield, we run a fieldtrip to the city of Durban in South Africa. This fieldtrip has run since 2019 and is tied to a core module that introduces students to conceptual and policy debates on informality. In Durban, we collaborate with a local NGO called Asiye eTafuleni (AeT) that supports informal traders working on the inner-city markets of Warwick Junction as well as academics and students from Durban University of Technology (DUT) and the University of KwaZulu Natal (UKZN). While we were unable to run a 'live' fieldtrip in 2020 due to travel restrictions linked to the COVID-19 pandemic, we instead ran the fieldtrip online, and continued collaborating 'virtually' with AeT and Durban-based academics.