How we embed careers support in our curriculum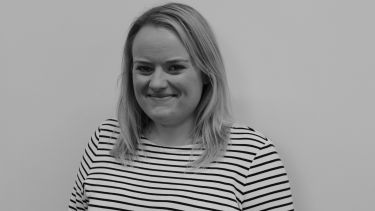 Who are you and what is your role in the department?
I'm Amy Woolley and I'm the PEER Manager for the department. 
My role involves supporting students to secure placements and working with employers and alumni to offer placements. I also support you to gain insight into the professional world by organising guest speakers from a number of organisations from the Public, Private and Third sector. These include alumni and employers who share their experiences as part of the Professional Skills module. I also organise liaison boards with employers and alumni to ensure that our curriculum and teaching covers what employers want to see.
What is the Professional Skills module? What skills are developed?
This module runs across your whole time at university and supports you with your career planning. You'll come to understand your skills and be able to link skills and your studies to the world of work. You'll also learn about searching, applying and selection processes for placements, work experience, internships and jobs.
In short, the Professional Skills module helps you develop your awareness of the jobs market and supports you in obtaining placements and graduate jobs.
How do you know that these skills are relevant to the current job market?
This module helps you to become  more aware of the careers available so that you can explore your options and be more informed about the area you want to work in. Throughout the module, we support you in applying for placements and internships in order for you to gain an insight into the profession and help you to use this experience when applying for jobs. We also share with you the opportunities on offer in the University and externally to help you to develop your skills and knowledge further. We support you in doing this so that you are a really good place to apply for the graduate jobs. In the later years of your course we will support you in the job search, application and selection process of gaining graduate jobs as well as give you an insight into what employers are looking for.
What changes have been made to the Professional Skills modules for this year?
We've reviewed the module at every level of study which has helped us consolidate what students need and create a structure that builds on the previous year's learning. We have created more digital resources to help support you in career planning for any of the major sectors our graduates go into and to identify, develop and reflect on your skills. One benefit of working online is that we have also been able to host many more employer and alumni talks, both across the UK and internationally. This breadth of experience has helped our students become better informed about what employers are asking for, how to demonstrate this when applying, and how to locate how to locate a much broader range of opportunities.
What do our students think about the module?
"The professional skills module has been extremely helpful in preparing me for a future in planning. The USP Placements and Employability Team are so supportive and welcoming, always going out of their way to help students make the most of their career potential. They have organised many in-person and virtual careers events throughout the year, giving us the chance to engage with local authority and private-sector planners from across the country. Such events have been extremely valuable and informative, as well as enabling us to practise our networking skills and build professional connections. The placement arranged by the department really gave me a chance to hone my skills in a real-life setting and learn 'on the job'. It also gave me a chance to reflect on my own professional toolkit, which really benefitted me when applying to graduate positions." - Harriet Dunn, 2020 graduate
And employers?
"I have been involved with the University for a few years and have been impressed by their approach to optimising the employability of students in the planning profession by: encouraging them to develop a range of skills, abilities and aptitudes; identifying opportunities to gain practical experience; introducing them to professionals from a wide array of planning practice; and supporting them throughout their time at the University and in securing that all-important first job." - Duncan Chadwick, Managing Director, Chadwick Town Planning Limited