Immediate Past RTPI President Dr Wei Yang visits Department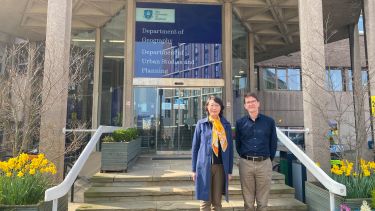 The Immediate Past President of the Royal Town Planning Institute (RTPI) Dr Wei Yang visited the University of Sheffield last week. Dr Yang is an alumni of the University and visited both the Department of Urban Studies and Planning and the School of Architecture, where she studied for her PhD.
Dr Yang took the opportunity to meet with both staff and students from USP. She talked to students about her career, sharing her professional experience and hearing from students about their experiences of studying planning at Sheffield.  
Meeting with staff, Dr Yang learned about the exciting developments within the Department, both in terms of our ongoing research and the recent refresh of our undergraduate courses, which will start teaching this autumn.
"It was great for our students to hear from an RTPI President. It's important for the next generation of planners to hear from experts in the industry, and that's something we aim to incorporate throughout our undergraduate and postgraduate courses," said Head of Department Professor David Robinson.
Dr Yang was the President of the RTPI last year, but she still has an important role to play within the organisation. Since February 2021, Dr Yang has been leading the independent Digital Task Force for Planning, with a report launched on 31st March 2022.
Professor Robinson said of Dr Yang's recent report: "the work speaks to our priorities as a department and our recognition of the importance of digital knowledge and skills to the future of planning and other urban professions."
The Department's recent course refresh aligns with the priorities identified in Dr Yang's report, emphasising the importance of digital skills and working across professional boundaries in order to arm the next generation of planners and urban professionals with the knowledge and expertise to tackle the grand challenges we face as a society.
Read Dr Yang's report A Digital Future for Planning: Spatial Planning Reimagined.