Italian muralist Jupiterfab visits the department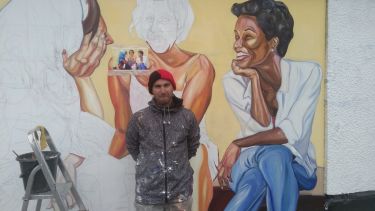 In June the department welcomed Italian muralist Jupiterfab to Sheffield. The artist, who is based in Guadalajara (Mexico), has painted murals all over the world, with his projects often working with marginalised communities.
While visiting Sheffield, Jupiterfab gave a talk entitled 'Art as a tool for social change', in which he discussed various community projects he has participated in, from exploring themes of immigration and integration with schoolchildren in Brescia to the local community's response to a changing area in the post-industrial neighbourhood of Poble-Nou in Barcelona.
"It's a melting pot of people who have lived their whole life there and a lot of newcomers who have put their business there," he says of Poble-Nou. "There was a sense of community there, but in general it is harder to find that sense of community in Barcelona." But Jupiterfab believes Sheffield is different. "There is a strong sense of community in Sheffield," he says.
Following his talk, Jupiterfab painted a mural on a wall in Kelham Island. Dr Lee Crookes helped find a wall, and they had a meeting with the owner, who agreed to the mural immediately.
---
There is a strong sense of community in Sheffield.

Jupiterfab

Italian muralist
---
"It started with Rowland," the muralist says. "When I work on art I have two main approaches. One is communities and the other is a global project, called 'Is this modern society?', which is about trying to find a balance between our virtual lives and our real lives."#
A colleague of Jupiterfab showed him an article by Dr Rowland Atkinson which talked about social media, which resonated with him. The pair got to know each other over Skype and discovered they had a lot of things in common. Jupiterfab was coming to Europe for a project in Italy, so used this opportunity to visit Sheffield as well.
"People are really nice and welcoming," he says of Sheffield. "My perception of a city depends on people, so my perception [of the city] is really good because I met really good people. Yesterday after I finished my mural, a person who we'd just met invited us on a tour to some neighbourhoods outside the city centre, so I got the option to see something else."
Having previously completed murals in London and Manchester, Jupiterfab says he has found quite a lot of opportunity in England. There is a desire to return to Sheffield next year to do a project here, if funding can be secured. "I feel like this is a beginning," he says. "I would really love to come back."
A global reputation
Sheffield is a research university with a global reputation for excellence. We're a member of the Russell Group: one of the 24 leading UK universities for research and teaching.