Planning at Sheffield tops Russell Group in National Student Survey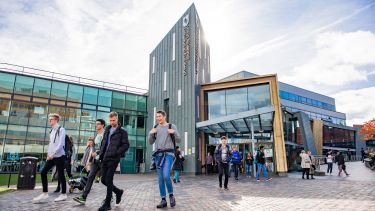 The annual survey shows that the Department of Urban Studies and Planning received a 91% overall satisfaction rate, making it the top planning school in the Russell Group for student satisfaction. Detailed feedback shows that students gave the department a 91% approval rating for teaching and 92% for learning resources.
Taken as a whole, overall satisfaction among University of Sheffield students is nearly three per cent above the national sector-wide average, placing the University fifth in the Russell Group, the association of leading UK research-intensive universities.
Incoming Head of Department, Professor David Robinson, said: "As a department we are very proud of the role we play in shaping the next generation of planners and urban professionals. It's a privilege to work with such bright and enthusiastic students, and we want them to enjoy and value their time in the department and get the very most out of their student experience in Sheffield. It is therefore very pleasing that the NSS results confirm that we are delivering upon this ambition, which is testament to the efforts of both our staff and students."
The excellent student experience at the University of Sheffield was also demonstrated by the performance of the University's award-winning Students' Union. According to the survey the Students' Union received satisfaction rates 18 per cent above the sector average for effectively representing students' academic interests, placing it first in the Russell Group and third among Students' Unions nationally. This follows the recent news that the Students' Union was awarded the Whatuni Student Choice Award for Best Students' Union for the fourth consecutive year.
Find out more about the University's overall NSS performance.
A world-class university – a unique student experience
Sheffield is a research university with a global reputation for excellence. We're a member of the Russell Group: one of the 24 leading UK universities for research and teaching.