Professor Tony Crook receives RTPI Outstanding Service Award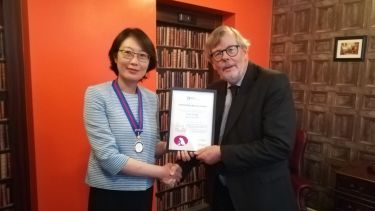 RTPI Outstanding Service Award was presented to Emeritus Professor Tony Crook by Dr Wei Yang, President of the RTPI and alumna of the University of Sheffield (MArch and PhD). She said:
"It was my great pleasure to present the RTPI Outstanding Service Award on behalf of the Royal Town Planning Institute to Professor Tony Crook FRTPI for his long-standing involvement with the RTPI and his significant contribution.
"The RTPI Outstanding Service Award is presented to RTPI members who have served and contributed substantially to the RTPI. The recognises excellence in service to the industry, which benefits RTPI members at large.
"Professor Crook is an inspiration to work with and a thorough and astute advocate of the planning profession with a firm grasp on practice and the influence of research and academia.
"I would also like to use this opportunity to express my personal gratitude to Professor Crook. Over the years, Tony has encouraged and supported me enormously. I warmly congratulate Tony for receiving this very special RTPI Outstanding Service Award."
At the ceremony Tony Crook responded to the President with the following words:
I am delighted to receive this honour. To be acknowledged in this way by my professional institute means a lot to me.  And to receive it from an alumna of the university where I served as Deputy Vice Chancellor has brought a real poignancy to the occasion.
Allow me to make two other points about the things I have learned about planning during my career.
First, I came into planning to make a difference, believing that planning could help make societies more socially just, ones that were economically competitive, socially inclusive and environmentally sustainable. I did this initially in local government and later in a portfolio career where I have been able to combine university leadership and research, especially my work on the economics of developer contributions and on the supply side of the private rented sector,  with a series of non-executive roles, doing planning by chairing and sitting on boards of planning and planning related organisations such as Shelter, the Coalfields Regeneration Trust,  the Construction Industry Council, the National Housing Federation, the Orbit Housing Group, the Architects Registration Board, the  council of the Academy of Social Science and many many more, not the least the RTPI.  Whether I and my colleagues have made a difference and helped create better places and spaces is a moot point, but one thing I have learned - and it is important for our understanding of planning  - is that we pragmatically do help to make things better by doing this step by step recognising the uncertainty that surrounds us.  This is a much better way to make progress than search for that unrealisable perfect ideal.  Here is an important lesson for us…let us get on with things and not waste time perfecting the unperfectable local plan.  Better to have a plan in place than a void that gets filled by national policy and inspectorate decisions This is not just me talking: it is key message from some of the most important writers on political and moral philosophy when discussing how to address injustice including John Rawls and Amyrta Sen, writers probably too neglected by most planners but I hope I am wrong.
Second, because my career has combined leadership, research and policy making I have seen the significant role that good research can play in policy.  Of course there is no direct liner relationship between knowledge and action: it is non-linear, fuzzy, and does not have an immediate impact.  But it does make a difference and I see this at first hand, for example, when giving evidence to parliamentary committees. So this is why I have a plea: that RTPI will continue to maintain its role as a learned society as well as a professional institute. Without sustaining that, it loses the injection of fundamental thinking about the nature of planning. To do this it needs to strengthen its research links with universities.  Its partnership approach to accreditation works well from the perspective of recognising good planning courses at universities but it has tended to neglect the research side of this. This is one of the reasons why, with past president Vincent Goodstadt, I set up the informal group of chartered planners working in academic practice to act as a ginger group of leading academics responding to government and parliamentary inquiries and feeding ideas into RTPI.  Part of the reason we are doing this is that there are now perilously few academics who are chartered planners, working on planning research in universities and teaching our young planners.  Vincent and I wanted to ensure that those of us with significant experience of both policy research and planning practice working in universities were giving voice to research in policy debates.  So an additional plea to those of you who chair accreditation and partnership boards: take far more note of research and push hard to get more academics into chartered membership.
So let me conclude by saying once again what an honour this is.  It will take pride of place in my study at home.