We're now welcoming applications for entry to the Research School in 2020/21. To apply for a PhD you need to complete an online application form, compose a detailed research proposal and provide two references and other supporting information.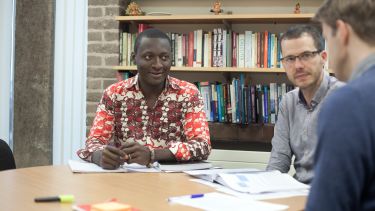 To apply for a PhD place in the Department, you need to:
complete an online application form
compose a detailed research proposal 
provide two academic references and other supporting information 
Application forms and documentation

All applications must be submitted on the official University application form, which can be completed online.

Your application will be dealt with promptly as soon as it arrives in the Department. In order to assess your application, we will also require the following documentation:

two letters of reference (preferably from academics who can judge your ability to research and write, e.g. a dissertation supervisor)
transcripts of previous qualifications; your CV; an indication of how you intend to fund your studies
plus, for international students, evidence of English language proficiency.

Research proposal

Applicants should provide a 1,500 word outline research proposal, setting out:

an overview of the topic and the main research aim a brief literature review of relevant research in the field (including the key academic and theoretical debates) and how your research relates to this literature

For further information on writing a research proposal, click here.

the specific research questions to be answered in the thesis
suggested research methods
the expected contribution to knowledge and to society beyond academia (i.e. its social and/or economic impact).

Although people can, and often do, alter their research topic after registering, a thesis proposal helps us to make sure that the topic is viable and you are suitable for admission. 

In particular we will be reading the proposal to judge whether you can make a coherent argument for a feasible research project.

If you are applying for a pre-defined project you do not need to provide a proposal. Instead you will need to provide a personal statement which explains why you are a suitable candidate, setting out relevant knowledge, skills and experience, and indicating the intellectual approach you would like to bring to the topic.

Deadlines and starting date

We accept applications at any time of year, though note that most of the studentships have application deadlines in late January.

If successful in your application you will usually be expected to start your studies in mid-September. This is so that you can take advantage of the induction sessions in September and the taught research training modules which start in the last week of September.

International applicants should take account of the time needed to obtain the necessary documentation, permissions, visas, and so on, which can take several months.

Further Information 

More information on how to apply for a research degree, and about postgraduate study at the University of Sheffield, can be found at:
Academic and practice backgrounds
We welcome applications from a wide range of subject/disciplinary backgrounds. Many of our students come from backgrounds in either planning and the built environment disciplines, or from social sciences such as geography or politics, but we are happy to consider applicants from beyond these disciplines who have a strong interest in urban issues.
We also recognise the value of practice-based experience, and will consider candidates with substantial experience but less in the way of academic qualifications.
Qualifications required
Each application is assessed individually, but as a minimum we normally require:
a good honours degree, masters degree or equivalent qualification in an appropriate field
for candidates not educated in English, please see the University's English Language Requirements pages for details of IELTS and equivalent requirements.