You'll be joining one of the largest and most successful research schools in the discipline.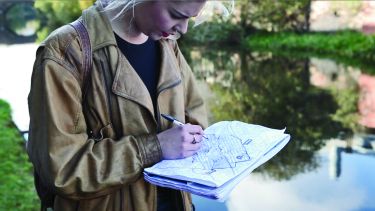 The value of a Sheffield PhD can be seen in the rapidity with which graduates have obtained employment in a range of contexts including not just academia but also local and central government and the charitable sector.
The quality of the scholarship of research students is evidenced in their increasing presence at national and international conferences as well as in a growing body of published articles.
---
As a PhD student you will have two academic supervisors, and you can expect to meet with your primary supervisor every few weeks.
All of our academic staff supervise PhDs. We also have an informal 'open door' policy - PhD students are welcome to contact any member of academic staff for advice and guidance.
Support starts at the very beginning of your contact with us. You can expect a dialogue with the Director of the Research School, who will provide you with advice in preparing your research proposal.
The department provides some financial support for students to visit conferences, PhD workshops etc.
The Research School is located within dedicated rooms within the Geography and Planning building, and provides each student with desk space and access to networked computing facilities.
The department is situated close to the central services of the University including the Information Commons, the Western Bank Library and to the Students' Union building.
---
As part of the Faculty of Social Sciences you will have access to world class training alongside your doctoral study.
The Social Sciences Doctoral Training programme is tailored to your individual needs to ensure you have the right skills you need to develop your research.
Bespoke methods training is designed and delivered through the Doctoral Development Programme, including courses run by the Sheffield Methods Institute, which has world class research expertise in qualitative and quantitative methods.
All our students receive interdisciplinary training and experience opportunities via the White Rose Doctoral Training Partnership, and additional discipline specific training is provided by the department.
A dynamic academic community
There is a strong ethos of mutual support within the School.
The Research School community is fostered via weekly meetings covering a wide range of subjects requested by students: these have recently included topics such as preparing for the PhD viva, the uses of theory in a PhD, using software for qualitative data analysis, and researching across language and cultural boundaries. All students also present their work at some point in the year.
Social events, such as a 'global lunch' and walks in the Peak District National Park, are also arranged throughout the year.
An international learning environment
Students come from all over the world to pursue postgraduate research in this department.
International students currently comprise just over half of the over fifty doctoral students in the department and join us from countries such as India, China, Korea, Syria, Mexico, Nigeria and Turkey as well as countries within the EU. This international diversity provides a rich learning experience for all students.
Many of our doctoral students undertake research in international contexts and make visits overseas to conduct research, participate in PhD workshops and attend conferences.
The department also has close links with a number of overseas universities, including institutions in the global South. As a result, the exchange of ideas within the Research School has long been enriched by the presence of visiting scholars from throughout the world.
These contacts are important as they enable students to challenge their ideas against the circumstances found in environments outside their main focus of study.
---
The University publishes a Code of Practice which gives a great deal of detail about how a Sheffield PhD works - what you can expect, what the regulations are and so on.  
Download it from the Code of Practice page.