Cities and dominance: urban strategies for political settlement maintenance and change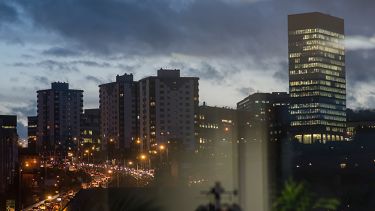 Principal Investigator
Co-Investigators:
David Jackman (School of Oriental and African Studies)
Eyob Balcha Gebremariam (LSE)
Paul Mukwaya (Makerere University, Uganda)
Suzie Nansozi (Makerere University, Uganda)
Danielle Resnick (International Food Policy Research Institute, Washington D.C.)
Marja Hinfelaar (Southern African Institute for Policy and Research, Zambia)
Sishuwa Sishuwa (Independent researcher and political analyst, Zambia)
The project
The move towards authoritarianism in many parts of the world often involves efforts by ruling elites to try and build support and maintain control in large cities. This is particularly significant in countries experiencing substantial urbanisation, where cities are moving from the margins to the centre when it comes to strategies of building political support.
Through case studies of Bangladesh, Ethiopia, Uganda and Zambia, this project explored the interventions that governments in 'dominant party' political settlements make in their capital cities to try and retain power.
This included both generative interventions to try and win over new parts of the urban population – such as job creation programmes and food subsidies – and repressive interventions such as restrictions on political activity and public debate.
The research shed light on how governmental strategies, as well as the strategies of those seeking to generate change from below, use capital cities as sites for intervention and mobilization, and how these change over time in authoritarian and 'semi-authoritarian' contexts.
Funded by:
DfID through Effective States and Inclusive Development.
Flagship institutes
The University's four flagship institutes bring together our key strengths to tackle global issues, turning interdisciplinary and translational research into real-world solutions.