The team is composed of members from the Department of Urban Studies and Planning and the Urban Institute.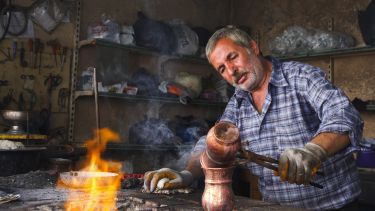 Off
AbdouMaliq Simone is Senior Professorial Fellow at the Urban Institute. He works on issues of spatial composition in extended urban regions, the production of everyday life for urban majorities in the Global South, infrastructural imaginaries, collective affect, global blackness, and histories of the present for Muslim working classes. For three decades he has worked with practices of social interchange, technical arrangements, local economy, and the constitution of power relations that affect how heterogeneous African and Southeast Asian cities are lived. He worked on remaking municipal systems, training local government personnel, designing collaborative partnerships among technicians, residents, artists, and politicians.
Victoria Habermehl is a Research Associate in the Urban Institute, on on the ESRC project Whose Knowledge matters? and is part of the MISTRA Urban Futures network. Her previous research focused on Latin American Cities where she researched how the economy is understood and reshaped through crisis, narratives of economic informality and everyday economic practices such as economic solidarity initiatives, autogestion and popular economy. She has a PhD in Geography from the University of Leeds, focused on organising in-against-and-beyond crisis in Buenos Aires, Argentina, through the economy, state and territory.
Gabriel Silvestre is a lecturer at the Department of Urban Studies and Planning and the programme director of the MSc Cities and Global Development. He has a PhD in Planning Studies from University College London and is interested in issues of policy making and urban governance, in particular how policy knowledge circulates, is mobilised and used to frame issues in public policy with effect on the transformation and the management of cities.