Environment, infrastructure and sustainability
Reframing our understanding of urban growth and environmental governance.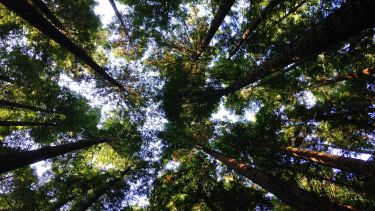 On
We know that in the future our global energy needs will increase significantly. We can also be certain that over the next 50 years (and beyond) the proportion of the world's population that live in cities will also continue to grow.
As governments and societies across the world respond to this challenge, in our research we seek to understand the impacts of energy and infrastructure development, and to consider how economic growth can be achieved whilst protecting the environment.
We focus on the social and ethical dimensions of environmental policy and planning and explore the role of public and stakeholder participation in environmental planning decisions.
We examine the processes through which the public are engaged in making and implementing environmental policy as well as the ways in which practitioners implement environmental policies and frameworks.
Finally, we also have a strong interest in the part that urban design can play in delivering sustainable urban futures.
---
Promoting opportunities for the re-use of vacant land and buildings
Cities and communities across the globe are affected by derelict buildings and abandoned urban spaces, but it doesn't have to be this way.
Our research on the EU-funded SEEDS project found that creating a supportive environment for the temporary re-use of vacant urban land and buildings should be a priority for planning policy-makers.
Read the SEEDS project report
Green growth: increasing resilience in cities through the delivery of Green Infrastructure-based solutions
Green Infrastructure can provide a multitude of benefits in towns and cities. Yet, despite its potential, the incorporatin of GI into new developments has not been fully realised.
We have been working with colleagues at the University of Manchester to explore the barriers to GI uptake in new developments.
A key aim of this study has been to translate existing research into an accessible format, so that developers can make more informed decisions about the integration of GI into development projects.
---
Twenty65: Tailored water solutions for positive impact
The UK water sector faces grand challenges over the coming decades: increasing population; ageing infrastructure; and the need to better protect the natural environment all under conditions of uncertain climate change.
As part of a major new EPSRC project, we are examining mobilisation initiatives that are intended to deliver water services more efficiently and with reduced environmental impact.
Our work will develop standard processes for evaluating water mobilisation initiatives and, in doing so, have a positive impact on mobilisation across the UK water sector and beyond.
Find out more about Sheffield Water Centre and the Pennine Water Group
---
Resource efficiency and the imagined public: insights from cultural theory
The question of how we use our domestic resources more sustainably is a challenge we all face – and a key concern for water and energy providers.
Resource efficiency initiatives form an increasingly important part of the governance landscape that energy providers work within.
In this paper, Liz Sharp, Rachel Macrorie and Alan Turner analyse example initiatives through the lens of the 'imagined public'; the potential householder participants in domestic efficiency interventions.
Destabilising environmentalism: Epiphanal change and the emergence of pro-nuclear environmentalism
George Monbiot, the prominent British radical journalist and environmentalist, shocked his readers and contemporaries by responding to the nuclear power station accident at Fukushima in March 2011 by becoming actively supportive of nuclear energy.
In this paper, Caroline McCalman and Steve Connelly seek to explain how Monbiot's position changed and, more broadly, explore the emergence of a 'new environmentalism'.
Competitive urbanism and the limits to smart city innovation: The UK Future Cities Initiative
Smart city innovation is a key priority across the globe, as it offers the opportunity for firms and governments to find technological solutions to urban problems.
Focussing on UK government attempts to stimulate urban technological innovation, Aidan While and Nick Taylor-Buck explore the challenges in the practical realisation of the smart city imaginary.
---
We are particularly keen to supervise PhD topics which align with our research priorities - details of potential projects and supervisors are provided below.
Flagship institutes
The University's four flagship institutes bring together our key strengths to tackle global issues, turning interdisciplinary and translational research into real-world solutions.