Priority two: Employability
We will deliver a sector-leading vision for employability which captures the value of learning and development experiences in and beyond the curriculum.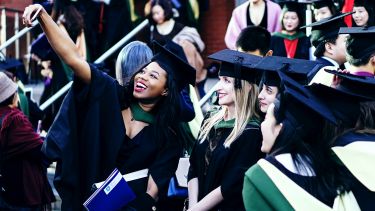 Our vision realises the benefits of the University's rich network of regional, national and international alumni and employer partners to enable all students to fulfil their learning and career potential.
We will: 
Develop a framework for graduate employability based on an approach of joint endeavour, working across the University and with stakeholders to enhance students' skills, attributes and abilities to secure the outcomes they seek and manage their onward careers with confidence.
Provide clear and responsive oversight of the careers and employability provision, enabling the University to assess and respond to the fast-moving skills and employability agenda.
Align programme and curriculum developments with the changing skills requirements of our students and external partners.
Clearly map and define skills within programmes and extra-curricular activities, and provide students with a mechanism to support and align both in-curricular and extra-curricular skills and personal development.
Ensure every student is provided with opportunities to gain work-based and/or work-orientated experience and ensure effective governance of such activity.
Effectively monitor progress and impact of the framework, including mapping of the levels of work experience, and ensuring the appropriateness and quality of career decision-making skills.
Devise and implement an action plan to support graduating students in the job market and ensure that students recognise what opportunities exist and are confident in what they can offer to prospective employers.