Introduction from the Vice-Chancellor
"Our achievements would not have been possible without the expertise, commitment, professionalism, hard work and passion of our staff. I would like to thank them for making the University of Sheffield such an outstanding place to work and study."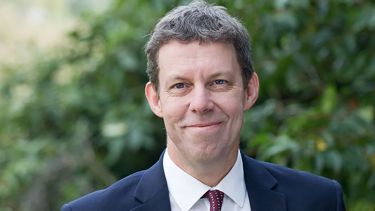 "As I write the introduction to this annual report, there are signs that we are beginning to emerge from the worst impacts of Covid-19. While the pandemic is not yet over, I am hopeful that this will be a more normal academic year for our students and staff, with the excellent face-to-face teaching, research and on-campus activities for which Sheffield is known. This annual report  reflects how we have navigated the challenges we have faced during this period, but also highlights our outstanding achievements and ambitious plans for the future.
This was another year in which the lives and the work of our students, staff and the communities that we serve were affected by Covid-19. Our response to the changing and changeable nature of teaching, learning and working has included ground-breaking research into the local, regional, UK-wide and global repercussions of Covid; an unprecedented level of financial, digital, pedagogical, practical and wellbeing support for our students and staff; and the forging and strengthening of partnerships and collaborations across the country and the world.
In response to the Covid-19 challenges, we have taken mitigating action to build up our cash resilience. As a result, our financial position is strong, which will enable the University to manage future uncertainty and deliver the ambitious objectives for research, innovation, and education set out in our new University vision and strategy.
Student recruitment for the year was buoyant. Total fee income grew by 4.5 per cent to £370 million, with our international student fee income representing 26 per cent of our total income. Once again, we have reaffirmed our position as one of the world's leading universities for teaching and research in the Times Higher Education (THE) World University Rankings 2021, QS World University Rankings 2022, and the Guardian University Guide 2021.
Our research activity has exceeded pre-pandemic levels, bolstered by our flagship institutes, which address global issues around energy, sustainable food, neuroscience, and ageing and multimorbidity. The University's Advanced Manufacturing Research Centre (AMRC) is powering industrial innovation and securing jobs, and we were delighted that the AMRC was chosen as the venue for the launch of the government's Innovation Strategy. As an employer, collaborator, investor, and civic partner, we have continued to play a leading role in the economy of the South Yorkshire region, and in the health and wellbeing of its people, its environment, and its culture.
Despite a Covid-cautious approach which has slowed our investment programme, we have completed three buildings this year which will be home to transformative research. These are:
the Sheffield PET-MRI facility attached to the Royal Hallamshire Hospital
the Harry Brearley building, which is home to the Royce Discovery Centre
the Translational Energy Research Centre
Our Social Sciences building - with new collaborative teaching and social spaces and a research hub - is now on track for completion in 2022. The Transformer, an on-campus energy centre which will ensure business continuity for much of our estate, is built and undergoing testing.
This year, we have also announced several collaborative initiatives that will cement the University's place at the forefront of scientific, engineering and entrepreneurial innovation. Examples include:
the Sheffield Gene Therapy Innovation and Manufacturing Centre (GTIMC), which will be dedicated to advancing the clinical development of new genetic treatments
our Mesothelioma UK Research Centre, which will pioneer patient-led research into mesothelioma
our work with the UK's major industrial clusters to address the challenges of industrial decarbonisation, as part of the Industrial Decarbonisation Research and Innovation Centre (IDRIC)
Northern Gritstone, our new investment company in partnership with the Universities of Leeds and Manchester, which will help boost the commercialisation of university spinouts and start-ups in the north of England
We want to ensure that sustainability permeates all that we do. Earlier in the year, we published our five-year Sustainability Strategy and have pledged to be carbon neutral on campus by 2030 and across all of our activities by 2038. These commitments align the University with the international scientific consensus and the approach embodied by the UN's Sustainable Development Goals and the Paris Agreement.
This annual report features highlights of the year and examples of projects, initiatives and collaborations - some completed this year, others underway or just launching. Our achievements would not have been possible without the expertise, commitment, professionalism, hard work and passion of our staff. I would like to thank them for making the University of Sheffield such an outstanding place to work and study."
Professor Koen Lamberts
President and Vice-Chancellor