Our world-leading teaching staff's innovative approaches and expertise have international significance and influence how subjects are taught in the UK and beyond, and we provide our students with opportunities to collaborate and help shape the world around them.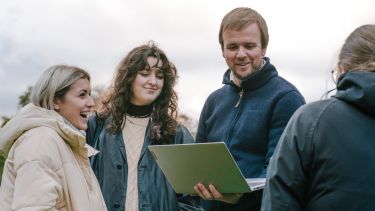 On
Dr Matt Mears has been working with the Institute of Physics to give greater visibility to diversity, equity and inclusion in the discipline and tackle the broader range of challenges facing the physics community within higher education.
This affects what the Institute is looking for when accrediting Physics courses, and therefore potentially the experiences of students on those programmes.
A new inclusion model for the physics community
Dr Adam Hodgson and colleagues at the Julia Garnham Centre have developed a comprehensive placement scheme, where students work closely with NHS colleagues in specialised areas of genetic analysis.
Established in 2021, the Centre is a unique remote placements facility, created to help reduce NHS cancer backlogs whilst training the next generation of leaders in the field of genetics.
The placements have a significant impact on NHS patients and partners and students are able to develop crucial graduate skills by accessing more specialised training and making contributions earlier on in their programme of study.
Led by Dr Laura Sbaffi and Dr Xin Zhao, staff at the Information School have developed resources to support students in understanding unfair means, which are now being developed commercially for use in universities in the UK and beyond.
This contributes to changing practices around unfair means at other institutions regarding unfair means and improving students' understanding, which in turn strengthen academic integrity and enhance student experiences.
Evaluating a pedagogical approach to promoting academic integrity in HE
The Transforming and Activating Places (TAP) project - jointly developed by the faculties of Arts and Humanities and Social Sciences - focuses on connecting students from disadvantaged backgrounds with a range of small local organisations through placements.
This fosters collaboration and knowledge exchange between students, external partners, and the University, and many students have continued their relationship with the organisation after the placements had ended.
Apprenticeship programmes throughout the AMRC Training Centre have provided new pathways to education for local students from disadvantaged backgrounds where they previously didn't exist.
The programmes have also supported local employers and industries by fostering a highly-skilled workforce with strong commitments to the area.
Many students have had positive experiences, with some graduates returning as tutors and mentors for future students.
Staff and students have been supporting courses at the Kyiv Polytechnic Institute (KPI), in particular, research and teaching collaboration in engineering and nuclear research.
The English Language Teaching Centre is also helping KPI staff and students learn English – a key language for international research and collaboration – and Sheffield Students' Union is supporting KPI's Students' Union.
This has allowed a continuation and development of higher education in Ukraine in extremely challenging and difficult circumstances.
Sheffield's partnership with Igor Sikorsky Kyiv Polytechnic Institute
A global reputation
Sheffield is a research university with a global reputation for excellence. We're a member of the Russell Group: one of the 24 leading UK universities for research and teaching.