This striking development includes a beautifully renovated Roman Catholic church, which contains a social space for students including a café, cinema room and communal kitchen.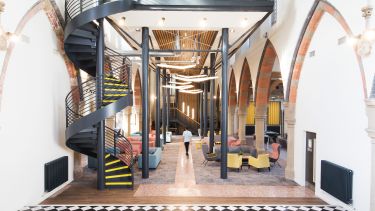 Coronavirus update: 
There is a member of staff in the back office of St Vincent's 24 hours a day 7 days a week, they are just not present on the front desk.
Students have been emailed regarding reception no longer accepting post, stating that if they make any orders they should put their contact details on the order so the courier can contact them when they are on site.
The number for St Vincent's is still the same 0117 302 7160 and the site mobile is 07885 808247.
If anybody has any parcels already in our post room, they can call the site phone and a member of staff can get this for them there and then.
On the front desk there is a big sign for students to say please call the above site mobile if you require assistance. This can be used to drop off keys etc.
We are trying to limit face to face contact as much as possible.
At a glance 
£137.90 per week
Single-sex flats
Own bedroom with en-suite bathroom
Studios also available 
Communal kitchen and living area
Launderette on site
Cinema room
Common room and social space
Study areas 
How many flats and residents?
Students live together in single-sex flats of four to nine flatmates, with each student having their own bedroom and en-suite bathroom. There is also a communal kitchen/living area shared by flatmates. 
---
Location
St Vincent's Place is located close to the University of Sheffield International College as well as Sheffield city centre.
There is a Tesco Express supermarket a short walk up the road, and a Chinese oriental store nearby. You'll find a handy variety of shops in the city centre including stationary stores, clothes shops and food retailers.
A world top-100 university
We're a world top-100 university renowned for the excellence, impact and distinctiveness of our research-led learning and teaching.