The Boardroom - Meet the speakers 2020
Meet the globally leading Sheffield alumni who led the Boardroom masterclasses in 2020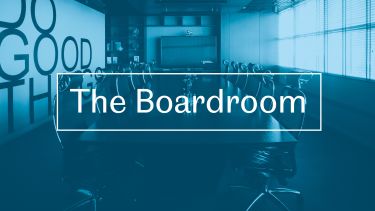 The Boardroom masterclasses featured the following alumni:
Special guest and friend of the University:
Ram Hadji - President of the Africa Sports Council
Masterclass Programme 
---
Data and consumer insights
Clive Humby, OBE - Chief Data Scientist at Starcount
With his business partner, Edwina Dunn, Clive founded the global consumer insights business, dunnhumby, which revolutionised the use of transaction data. They are most well known for working with Tesco, using their expertise in analysing customer data to launch the Tesco Clubcard - the world's first supermarket loyalty card. With 40 years' experience in customer analytics across 30 markets globally, Clive is acknowledged as one of the world's pioneers. He delivered an exclusive masterclass giving insight into customer data. Clive graduated in 1975 with a BSc in Applied Maths and Computer Science and was awarded an honorary degree in 2016
---
Leading the way for diversity
Jenny Lay-Flurrie - Chief Accessibility Officer at Microsoft
Jenny is a trailblazing and passionate campaigner for accessibility, and an expert at driving innovation and change at the highest level. Hear Jenny's own incredibly powerful, personal story and learn how accessibility is essential for smart business. Jenny graduated in 1997 with a BMus in Music.
---
How to land a job at one of the 'Big Four'
Mark Raddan - Partner at KPMG
Mark is a Partner at KPMG London, one of the Big Four accountancy firms. He began working with KPMG after he graduated in 1999. By 2010 he was promoted to partner, having been at the forefront of developing KPMG's propositions and capabilities, leading turnaround and liquidity engagements for Tata Steel, Jaguar Land Rover, SABIC, and Tesco. Mark shared his insights into building a successful career at one of the Big Four, and what it's like living and working in the thriving business heart of the City of London. Mark graduated with an LLB in Law in 1999.
---
Women in the boardroom (Panel event)
Hear from three highly successful global leaders about their career journeys, overcoming the challenges of getting a seat in the male-dominated boardroom, top tips for success, and how men can also support the push for diversity in the workplace which is so essential for good business. This panel session was Chaired by University Provost and Deputy Vice-Chancellor Professor Gill Valentine.
Panelists:
Penny is Chair at Riverstone Living, a Goldman Sachs backed initiative. She is the former President of Coca-Cola in Great Britain, and has served as a non-executive director of Vodafone, Trinity Mirror, the GAP, Next, the Body Shop, and Reuters. In September 2018 she was appointed by Aston Martin Lagonda as their first female Chair. Penny graduated in 1980 with BSc Chemistry and was awarded an Honorary Law degree in 1984.
Ann Cairns  - Executive Vice Chair at Mastercard
After joining Mastercard in 2011 as Head of International Markets, Ann is now their Executive Vice Chair. Starting out as an engineer, she became the first female qualified to work offshore in Britain. Later, she moved her career into investment, with roles at Citibank and ABN AMRO. Ann was also a restructuring consultant for Alvarez & Marsal where she led the team managing the bankruptcy process for Lehman Bros in Europe. Ann graduated in 1972 with a BSc in Pure Mathematics & Statistics.
Alison Kay - Managing Partner for Client Service at EY, UK & Ireland
Alison graduated in 1992 with a BSc in Geography. She began her career on a graduate programme in the utilities sector and joined EY in 2007. Alison is currently responsible for leading the growth strategy for EY in the UK and Ireland (UK&I). During her career she has held a range of leadership roles, including: EY Global Vice Chair of Industry; EY Global Sector Leader for Power and Utilities; and most recently, EY Global Accounts Committee Chair and member of the EY Global Executive.
---
How to sell yourself
Erin Collard - Founder of Blend
Erin is the Founder of Blend, a Digital Lending Platform used by Wells Fargo, U.S. Bank, and over 250 other leading financial institutions. Erin has over a decade of deep financial and technology experience, having served as both Head Trader and Managing Director at Clarium Capital since its inception. He has also been an angel investor and advisor for many startups. With the experience of successfully brokering deals with top-tier VCs, Erin spot about the skills needed to successfully sell yourself and your product. Erin graduated in 2002 with a BA in Economics.
---
Social entrepreneurship and doing social good
Koh Seng Choon - Founder & Executive Director of Project Dignity
In 2010 Koh founded the Dignity Kitchen in Singapore, the world's first social enterprise food court that supports disadvantaged and differently-abled people into employment. He has since expanded the project to include further training and community outreach programmes in both Singapore and Hong Kong. He was also the Group Executive of William Cook Steel Casting. As a specialist in business management and development, Koh delivered his masterclass on building a social enterprise and doing social good. "Knowledge dies with you and a degree is worth less if it is not shared." Koh graduated in 1986 with a BEng in Mechanical Engineering and Business Studies
---
Building a recommerce business from a Stockport garage to the bright lights of San Jose!
Steve Oliver - Co-founder & Group Chief Executive, Music Magpie
Steve is the Co-founder and Group Chief Executive of Music Magpie, starting in 2007 in his Stockport garage as a service that enabled users to trade-in their old CDs, DVDs and games. The company has reinvented itself in the last three years to become the world's largest recommerce business, achieving a group turnover of £140m in just its twelfth year of trading. The business has a simple mission statement and that is to be the service to use that is "Smart for You, Smart for the Planet", with sustainability at the heart of its model. He spoke about building his recommerce businesses from scratch. Steve graduated in 1992 with a BSc in Psychology.
---
Where next for the financial sector?
Andrew is Chairman and CEO of Caxton Associates, a 37 year old global macro hedge fund. He attended state school in Manchester, and graduated from Sheffield University in 1987 with a First Class Honours Degree in Economics. Prior to Caxton he was Managing Director, Goldman Sachs, heading FICC proprietary trading. Andrew joined the London office of Caxton in 2003; was appointed Chief Investment Officer globally in early 2008, and to his current position effective January 2012. His wide range of charitable interests include Chair of Speakers for Schools, Deputy Chair of the New School Network, a Board member of the Sutton Trust, together with the founding trustee of the Law Family Educational Trust and the Law Family Charitable Foundation. He sponsors a multi academy trust centred around his old school in Manchester.
---
Amplify your impact and influence through building your personal brand
Ram Hadji is President of the Africa Sports Council 
Ram Hadji is an energetic entrepreneur, a branding and Digital Marketing Strategist, sports development consultant, an experienced marketing maven, and an initiative leader. He has proven success managing people and projects in every facet of marketing, with a wealth of experience working with brands in over 12 countries around the world. He is the current President of Africa Sports Council, Equator Sports Group and also the CEO of Blueprint Digital. He is also the host for the Africa Digitized Podcast Show. Ram was born and raised in Uganda, and has launched and managed multiple companies such as Equator Sports Group and Globivate Ltd, as well as continuing to serve as the Board Chairman for Open Space Centre Uganda.