Exclusive masterclasses by globally leading Sheffield alumni. Next programme will run September 2023.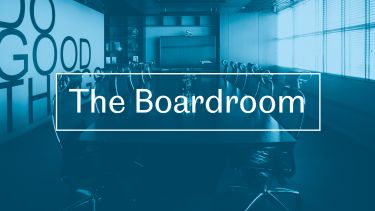 Are you a bachelors, masters or PhD student graduating this year?
Are you ambitious and looking to increase your graduate profile and build your networks in these challenging times? 
Apply to one of 30 places on The Boardroom and take part in a series of exclusive online masterclasses every September, delivered by top entrepreneurs, finance specialists, marketing and media gurus, leaders in diversity, crisis management experts, senior civil servants and many others. These masterclasses will provide you with a fantastic insight into a range of sectors and leadership topics to set you up for success.
---
What you will get
An inspiring programme of exclusive masterclasses
Meet and network with global leaders (based in the UK and abroad)
Build your leadership capabilities
Receive a certificate of completion signed by the Vice Chancellor
Improve your profile to employers
Be part of an exclusive network of fellow Boardroom members
---
Who will you hear from
---
Time investment
Each masterclass will take 1 hour, twice a week, for 4 consecutive weeks in September 2022 
You are expected to attend all masterclasses in order to successfully complete the programme and receive your signed certificate
---
Who can apply?
All bachelors, masters and PhD students graduating in 2022 (or January 2023 for masters and PhD graduates). The programme is open to all UK, EU and international students.
---
Apply
Applications will be open prior to the next programme in September 2023. A panel will select 30 students to join the programme, so please take time to consider your answers.
This programme is free for all graduating students taking part.

More details about the programme will be announced in due course.