The Annual Alumni Reunion 2022
Join us on Saturday 10th of September on campus to celebrate at this year's Annual Alumni Reunion!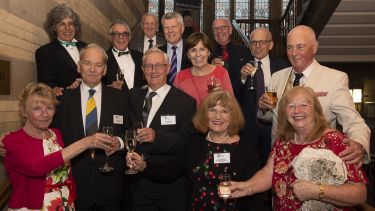 All alumni are welcome, and a special invitation is extended to those of you from the class years of 1982, 1992, 1997 & 2002 who this year celebrate respective 40, 30, 25 & 20 year anniversaries since graduating from the University of Sheffield.
Come back to campus to revisit your student days, catch up with old friends, and see how Sheffield has changed.
Reunion Schedule
Take your pick from a selection of daytime activities, including an exclusive campus tour, mini lectures from our leading academics and a delicious two-course hot buffet lunch in the University's award winning restaurant, INOX Dine. 
In the evening, slip on your dancing shoes and meet up with old classmates for a special celebration dinner in Firth Hall, followed by a live band and DJ, with throwback tunes that are guaranteed to get you hitting the dance floor. Afterwards, if you're not all boogied out, head over to the Students' Union to relive your student days at Pop Tarts Reunited. 
Alumni are welcome to bring non-alumni guests.
Schedule:
10am - Registration/Welcome refreshments - Interval Cafe, Students' Union
11am - Mini Academic Lectures in Hicks building
Dr Megan Blake: Tackling the problem of food insecurity: causes, effects and interventions

Dr Blake is an expert in food security and food justice.  Her research considers the dimensions of food insecurity focusing on economically wealthy nations. Hear how this work considers both the causes of insecurity as they play out across the four pillars identified by the United Nations (access, affordability, utilisation, and consistency) and the effects (poor health, reduced well-being, social isolation, and constrained capability to cope).

Dr Munitta Muthana: Building a magnetic 'Trojan Horse' cancer treatment to fight cancer

Dr Muthana is working to develop 'trojan horse' drugs that can be injected into patients' blood to attack breast, prostate and other cancer. Importantly, they have designed these drugs so that they can be targeted specifically to the tumour using magnetic navigation.

This targeted approach not only shields the drug by providing a 'coat of armour' before their progress can be blocked by immune defences, it also prevents harm to healthy tissue and organs. To date, their studies have focused on laboratory models with very encouraging results and we now need to take the next steps to bring this technique to a state where it can be administered to humans.
12.30pm - Two course buffet lunch including Pimms on arrival - INOX Dine
2.15pm - Tours of Campus - Central campus, The Diamond, The Heartspace
7pm - Drinks Reception, Three Course Reunion Dinner & Dance with Live Band & DJ - Firth Hall
How to Book
Tickets are available now from our online store.
BOOK NOW
Lunch is £15 per person and includes Pimms on arrival and refreshments. 
Dinner is £45 early bird (book before 10 July) or £50 standard per person, and includes drinks reception, three course meal and entertainment, plus complimentary ticket to Pop Tarts Reunited.

A group booking offer is also available for the dinner – book a table of 10 and only pay for 9. Please email alumni@sheffield.ac.uk for assistance with group bookings.
Please update your details to ensure you receive future updates.
Stand alone tickets for Pop Tarts Reunited club night can be purchased via the Sheffield Students' Union Box Office using the button below.
Book your Pop Tarts Reunited ticket here
If you are attending the Pop Tarts event, please ensure you bring ID with you. If you are unable to provide ID, contact foundry@sheffield.ac.uk
Find your friends
Is there a classmate, or group of classmates, that you'd love to attend this reunion with but over the years you've lost touch? We may be able to help! 
As an added incentive to get together with friends, discounts will be available for group dinner bookings.
For more information on tracing friends, please contact our Alumni Relations Team at alumni@sheffield.ac.uk. 
Accommodation 
As a Sheffield alumnus, you're also eligible for discounted rates at selected local hotels. Visit our Accommodation page for more information.
---
Would you like more information about the reunion? 
Contact us via email at alumni@sheffield.ac.uk, or telephone: +44 (0)114 222 1071.