How to organise a reunion
The Alumni Relations team can help you with your reunion in a variety of ways – from offering advice on the type of event and venues, to publicising the event and putting you in touch with old friends.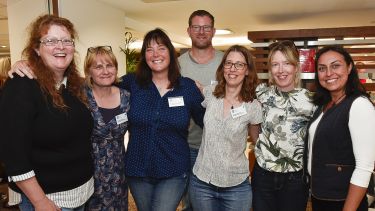 How we can help 
Contacting friends
We can search our database and provide a list of names of alumni. This will enable you to utilise social media to track people down. We can provide a list of names:
by year of graduation
by subject of study
by country/location
by group/society (e.g. football, chess club)
We can forward on invitations, via email, as long as:
we can accurately determine the alumni you wish to contact
we have valid email addresses
---
Accommodation and venue ideas
We can provide information on:
places to stay – both local accommodation and Halls of Residence
places to eat
places to visit
access to the Students' Union and access to other University buildings
---
Organisation and promotion
We can:
liaise with your department regarding tours or visits to the department (where possible)
advertise your reunion on our website
advertise your reunion on our social media pages
promote your event on in the quarterly e-bulletin
provide general advice and support
---
How you can help us 
In order for us to keep in contact with our alumni, it is essential we have up-to-date contact details. When organising a reunion, it is possible you will find new contact information for some of your old friends. All we ask is that you encourage them to get in touch with us to update their details. Assisting us in this way helps to keep our database as up-to-date as possible.
After the event has taken place, please remember to send in a write-up and photos of your reunion, together with a list of all those who attended. Then, where possible we will include it on our website and it may even feature in our annual alumni publication, Your University.
Further help
For more detailed advice and a step-by-step guide, please download our guide document.Reunion Step by Step Guide
UK events
Contact our Events Officer for Alumni Relations, Helen Meadows on +44 (0)114 222 1079. Alternatively email the team at alumni@sheffield.ac.uk.
International events
Contact our International Alumni Relations Manager, Charlotte Cremers on +44 (0) 222 45119 or email her at c.cremers@sheffield.ac.uk.