Alumnus investing in student investors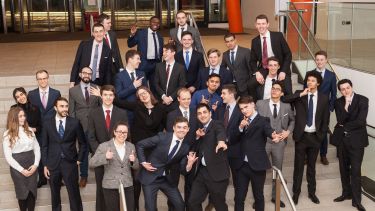 A retired insurance underwriter and broker, Steve (BSc Biochemistry 1973) is also the trustee of the Robert Kiln Charitable Trust – named after his father, an honorary graduate of the University and a highly successful Lloyds underwriter who was a keen supporter of British archaeology. Robert Kiln was called "The greatest individual benefactor to British archaeology in this century." by historian and archaeologist Professor Charles Thomas.
Steve wanted to ensure the continued success of archaeology at Sheffield following his father's death, and also to promote entrepreneurship within our student community. So, in 2011, he worked with the University to establish the Twikker Fund (named in honour of the popular University RAG magazine) with a generous donation to achieve that aim, matched with funds from the University. A student investment club was also established with Steve's support.
The following year the Student Investment Fund was set up, with 50% contribution from the University and 50% from the existing fund. It was managed by students in the University of Sheffield Investment Society (USIS). Under Steve's guidance, students were given the opportunity to examine and propose trades to grow a starter fund of £20,000.
Student chairman of the Student Fund, Will Street, currently studying History & Politics, explains how members of the society (analysts) get hands-on and gain valuable investment experience:
"Analysts meet once or twice per week in their teams, meetings which are directed by a team leader. During these meetings teams analyse macroeconomic news, financial performance and assess potential investment opportunities. Teams produce research reports for stocks/funds that they wish to buy before submitting them for approval to myself.
"The whole fund then meets once per week on a Thursday where we cover a variety of topics related to finance and investing. We are fortunate enough to maintain good contact with our former analysts and had one former analyst Skype-in during one of our weekly meetings to discuss how he was able to leverage the fund in his job search.
"In addition to these meetings, members of the fund have access to management school teaching staff and facilities, and analysts have the opportunity to take the Bloomberg Markets Concepts Certificate, an industry recognised certification covering a range of topics pertaining to global markets and finance."
One of the funds successes was the start of the Competition Fund in late 2013 which uses assets in the Students Fund and runs from October until May the following year. The Competition Fund pits student teams against one another to see who are the best investors or who are lucky! Each team is allocated £10,000 at the start of the year and try and generate the highest return by the end of the year. Now in its sixth year, an annual Competition awards evening – the Twikker Ball – is held to congratulate all the teams who have been successful, and crown the winning team.
With such valuable, real-world expertise, many members of the society have gone on to secure successful positions after graduating from Sheffield:
USIS alumna Kayleigh Reardon (now at Schroders) explained:
"Finding graduate finance jobs in the city is near impossible without prior experience. Our experiences helped strengthen our applications. I truly believe that I wouldn't have been given the number of interviews I was without my experience on the fund. The fund was always one of the main topics of conversation; the interviewers were always incredibly impressed with the opportunity provided at Sheffield University.
"I know a vast amount of students from the fund who have gone on to secure fantastic roles in the city. I'm positive that every single one of them would say that the experience helped them gain a graduate position. Whether that's a result of the knowledge they gained, experience for their CV or advice from Alumni members."
Will Street expanded on this, saying:
"Institutions our former members have gone on to work at, or receive offers from include, Goldman Sachs, Schroders, MUFG, JPMorgan, M&G Investments, Coutts, KMPG, PwC and UBS to name just a few. I believe it is testament to the opportunities the fund provides that so many of our former members have been able to secure such excellent jobs."
Steve has continued to support the Society, making further donations, as well regularly meeting with members of USIS to pass on his experiences. In total the student fund is now worth in the region of £125,000. There is a sister fund managed by Steve with the help of a university student group which produces income to support a student bursary and prizes each year in the Department of Archaeology. Both funds have had considerable capital gains which are retained to replenish and grow the investment funds. These funds are thought to be some of the largest in Europe.
USIS alumni Connor Barnes (now at Equatorial Traders Limited) and Daniel White (at Mayfair Capital) - shared expressed their thanks to Steve for his support and belief.
"Steve's selfless and warm nature has been tireless. Since meeting him in 2014, he has constantly driven to grow the fund and ensure that the university recognises the commitment given by students. I have seen the frustration on his face when things are set back and that alone shows how much he feels invested both in the legacy of the fund, but also the continuing positive impact it has on students - past and present." Connor Barnes
Daniel continued:
"Thank you Steve, on behalf of myself and my cohort, for allowing us such an opportunity and for orchestrating what was without doubt the highlight of my time at university. You've created a legacy that I hope will endure for years to come."