Big Week inspires couple to raise over £1,600 for Parkinson's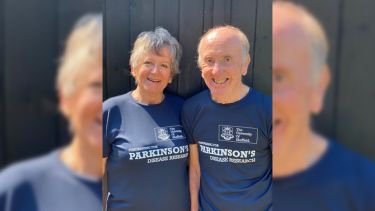 We spoke to Sally after their incredible walk to find out how they got on, and why the cause is so important to them.
---
What motivated you to take part in the Big Week?
 
"A friend is an alumni of Sheffield and alerted me to the Big Week challenges. My husband Terry was diagnosed with Parkinson's Disease in 2014 and it has certainly had an impact on our lives. He copes well, and luckily his medication agrees with him, but any research into this debilitating disease is to be welcomed."
 
How did you find your challenge of walking 50 miles?
 
"We've always done lots of walking - the Capital Ring, Hertfordshire Loop, Hertfordshire Chain Walk, Hertfordshire East to West and North to South, in addition to walking holidays in the UK and abroad. So a walking challenge was exactly right for me, and Terry joined me when he felt up to it. In his hey-day he was very active - he used to do a 10 mile run once a week, ran half-marathons and the Great North Run, played 18 holes of golf twice a week and was a good squash and badminton player. I'm sure this has stood him in good stead with regards his fitness levels and determination, but he really finds it difficult to come to terms with his limitations now."
 
How did you feel after you'd exceeded your fundraising and distance targets?
 
"At the age of 76, and with a hip that was replaced in 2004, I was very pleased to have completed just over 50 miles. I usually manage 30 miles each week, either solo or with friends, and this became something I felt I must do each week since the pandemic arrived to keep me vaguely sane and to try to offset the extra calories I was taking on board - my other love is cooking! I certainly knew that I was walking an extra couple of miles a day!
 
"We found the amount donated truly astounding - people were so generous. On one occasion we were Zooming with fellow 'Folly Fellowship' members and when our challenge was mentioned over £250 rolled in!
 
"We've lived in Bengeo, Hertford for over 45 years and it's a great community, as evidenced by the great support we've had from friends and family alike. Our daughters are very proud of us!"
---
They hope that their donation will assist our Parkinson's research team to one day find a cure for Parkinson's disease, or at least to help sufferers deal with the major impact it has on theirs and their family's lives.
To find out more about how to fundraise or to make a donation, please visit our Parkinson's appeal web page.