Building City Connections with help from successful alumni in London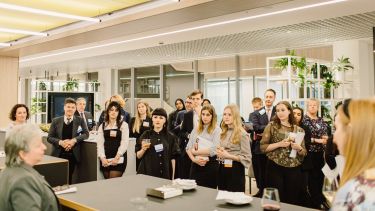 The event, part of the University's unique City Connections initiative, aims to support and inspire students as they progress into their careers by raising their confidence and aspirations, developing their commercial awareness and introducing them to a network that they may not otherwise have access to.
A lesson in creative branding and digital marketing at Exposure
The students began the day with a visit to Exposure, a leading branding company with offices in London, New York, Paris and Tokyo. They were hosted by University of Sheffield alumnus James Burgon (Economics with Econometrics 1989), their Chief Financial Officer. James talked about his varied career journey - from working as an intern in the fashion industry to becoming a Business Analyst at Channel 5, with roles at Warner Music and PWC in between. He shared examples of Exposure's recent digital campaigns for high profile clients such as Dyson and Red Bull. James also showcased how the company develops creative content combining branding with social causes, such as the Smirnoff #chooselove campaign to combat homophobic trolling on social media.
The students then heard from Joely Hunter and Eden Summers, both Sheffield Philosophy alumnae who graduated in 2014 and 2015. They gave a fascinating insight into their roles as Account Executives and Beauty PRs for the company and shared useful tips for building a successful career.
A visit to the iconic Bank of England
Next the students visited the prestigious Bank of England, first hearing from their Early Careers Team. They introduced the wide variety of roles at the Bank and gave an overview of their graduate recruitment programmes.
A highlight of the day was a talk and Q&A session with one of the University's most successful alumni: the Banks' Chief Economist, Andy Haldane (Accounting, Financial Management and Economics 1988). The first in his family to attend university, Andy's interest in Economics was spurred by a desire to understand the economy and try to make it better. Joining the bank in 1989, he decided to stay, "as long as it was interesting", and remains there 30 years later. During this time he has worked through periods of immense turbulence, such as Black Friday and the Global Financial Crisis, as well as the more recent challenges of Brexit.
There is no better time in history to be a Social Sciences student thinking about social policy.

Andy Haldance

Bank of England Chief Economist
He described the challenges currently facing society as the biggest endowment any generation of students has had:
"Everything's broken" he told them, "and it's your job to fix it!"
His one take home piece of advice was:
"not to underestimate how much you are currently learning at Sheffield that you will end up using."
And, inspiringly, he let the students know that he uses what he learnt at Sheffield whilst setting the UK's interest rates.
Graduate Opportunities at DLA Piper
The final visit of the day was to DLA Piper where the students were welcomed by alumnus Jon Kenworthy (LLB Law 1986), Partner and Co-Chair in Mergers and Acquisitions. Jon gave an introduction to DLA Piper and the breadth of roles available across the organisation. He spoke about his time at Sheffield, being the first in his family to go to university and his long and successful career at DLA.
The students then heard from Shalia Eime and Miriam Dunlop from DLA Piper's Graduate Recruitment Team. They gave them an insight into the graduate programmes and opportunities available at the firm, before facilitating a lively speed networking session with a number of trainee solicitors.
An evening of networking
The day culminated at an evening networking event with over 30 successful Sheffield alumni. The event was opened by Social Sciences' Faculty Director of Learning and Teaching, Professor Jackie Marsh, who welcomed guests and introduced alumnus host Jon Kenworthy. Guests mingled over drinks and canapés, with alumni providing a supportive and friendly environment for the students to develop their networking skills, and giving them the opportunity to find out more about different career paths and sectors.