Chancellor's Lady Justice Anne Rafferty's installation speech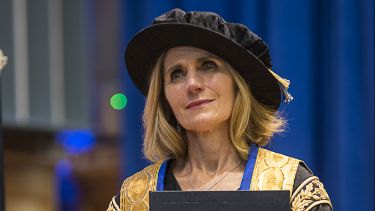 The new Chancellor read Law at the University of Sheffield, graduating with an LLB in 1971, and began her pupillage in 1974. She was appointed Queen's Counsel in 1990 and a Recorder of the Crown Court in 1991.
As Chancellor Dame Anne is the senior lay Officer of the University, and will carry out a number of important duties, including representing the institution at special occasions and conferring degrees and other academic awards.
During the installation, which you can watch back via the video at the bottom of the page, Lady Justice Rafferty gave a wonderful speech explaining how Sheffield had shaped and informed her, as well as her commitment to the University, and her great joy and thanks at being appointed as our new Chancellor. You can have a read of the speech in full below:
Vice-Chancellor, Lord Lieutenant, High Sheriff, my Lord Mayor, distinguished guests, my Lords, ladies and gentlemen. Let me gather up the University community and take it on two trips. The first: we'll sit in a committee room of a proud municipal council in the north. And we'll listen to the Children's Officer having a very hard time at the hands of local councillors. At issue is the welfare of a little lad. The local authority is anxious that he urgently be taken into care, residential care, as at-risk. The Children's Officer refuses to support that stance. He lives with granny, and her daughter, his mother. Granny takes him to school in the morning, collects him in the afternoon, gives him his tea. Mother gives him his bath, puts him to bed and goes to work. She does night shifts. He has a 100 per cent attendance record, he's always appropriately clothed, he's warm, he's well fed, he's happy, he's cheerful. Bank the memory, we'll return to it.
Now let's sit in a governors' meeting in a non-selective state school in middle England. This time, in the firing line, from the governors, is the headteacher. The head had thought of, organised, and pulled off an exchange with a public school in the south of England, whose name you'd recognise. Not least, because it educated members of the Royal Family – or tried. There has been massive local and national publicity; the public school is delighted. The governors of the state school are beyond thrilled and it was all their head's idea.
Why are these two accounts of interest to us? Let's begin with the school. What's remarkable about an exchange such as that? One can't turn on the television now without tripping over a documentary on the topic. Well yes, in 2015. But not when we were listening in 1964 – when it may well have been the first, but it was certainly one of the first of its type. And, on anybody's view, decades ahead of its time.
So what's the problem? Well the problem for the governors is that the head is refusing to do it again. On analysis, it was puffery, it was window dressing. It was one massive ego boost and a good deal of self-satisfied posturing. But the state school youngsters learned nothing of value and if the incoming boarders did, then it was at the cost of the state school. It did not withstand rigorous analysis. Do it again? No!
And why is the little lad of interest to us? What risk? His home was small and immaculate. He was small and immaculate. He lived with two mature women who adored him. What's the risk? The risk was why his mother was on permanent nights. She was a prostitute. Granny knew the score. Both those women allowed nothing, nothing, to come anywhere near that little lad that would expose him to his mother's earning arrangements – for which she loathed herself, but she could think of no other way to keep the family together. Children's Officer's stance? That the little lad should stay in his loving, secure home, with those two mature women who loved him. He was at risk of nothing.
One might applaud that dispassionate, non-judgemental approach, which drilled down to the merits. One might expect it in 2015. But not when we were listening in 1953.
I've introduced you to two instances where what should have been informed discussion between intelligent bodies turned into a battle between, on one hand the power bases – the local authority, the governors – and on the other, one individual, unsupported, isolated, lonely, playing in a way that was wholly at odds with convention and with accepted behaviour. The individual central to each was the same – the Children's Officer and the headteacher. And a woman. And my mother.
So, my theme, directed primarily at the youngsters Sheffield embraces, but at all of the University's family, is that I've shown you fierce intelligence, highly educated and what? What's the distinguishing third? It's courage. It's courage and the determination to do what is known to be good, and strong, and true. Courage will not alone always prevail. It needs to be fortified by that rigorous analysis, by that ability to reason, and then it finds its voice. There'll always be people who are as clever as you or who, in intelligence, can out-play you. There'll always be people who are as well educated (assuming they went to Sheffield) but what will distinguish is the trio.
You always know what's right, you always do. You always do. The head lies easily on the pillow, or it doesn't. The face looks back at you in the mirror and meets your gaze, or it looks away. Sheffield gives the toolkit, to meld those three together. It teaches skills of analysis and powerful reasoning and it nudges towards, always, that most useful of questions – why are we doing this? And when things get tough, and they will, they always do, remember when you're one of the young, at whom I'm primarily addressing these few words, that you have the rich fabric of this University and alumni who have been doing this so that now it's hardwired in them, and wrap yourself in that rich fabric.
Aristotle, will support you. Even earlier than AD 1953, he said, "we are what we habitually do". Begin now. And that other Greek, Nike, Goddess of Victory, who memorably didn't say, "Just do it". And all Chancellors' installation speeches must, as a matter of law, include a quotation from Shakespeare: "As in the theatre, the eyes of men after a well graced actor leaves the stage are idly bent on him that enters next, thinking his prattle to be tedious". Leave your listeners thinking – "that's a big player, not afraid, capable of harnessing the skills of analysis and structured reason to nobility of purpose. Well graced. I'll have that one. I'll leave the opposition to settle for the idle prattler". And when the decision comes your way, and to get it right may not be to your personal advantage, hold tight, remember today, rest into Sheffield and its values, and accept a little bit of help from the Chancellor's mother.
I've done a bit of public speaking in my time, but even I find you quite an intimidating gig. Not least because I know that I am being beamed to unsuspecting alumni worldwide and civic dignitaries and the alumni more local to us – for which I unreservedly apologise. And there's nothing I can do today to make a grand gesture which is in any way on a par with the two examples I've given you. So all I can do, all I can offer you, is a token. And that's why I opted not to have the comfort blanket that the lectern would have provided. And that's why: no notes. If I fell flat on my face, I had no safety net. But I wanted, in this very slight genuflection to my central theme – intelligence, with an education and courage will mark you out – to say to you by this little example, "I won't ask you to do anything I'm not prepared to do myself". So I offer it to you as a token of my esteem.
Asked what most delighted me when I was offered this job, I said: the Chancellor's hat, and working with the Vice-Chancellor. Not necessarily in that order. That was then. This is now. I've got it (gestures to Chancellors' hat). And now I've got it, principally they're going to have to rip it off me, but secondly it allows me, by using it as a symbol, to thank you. Thank you for coming. Thank you for playing your part in giving me and my family a day of unconfined joy. Thank you for the particular compliment of the Chancellor's choir, and that fanfare composed specially for me. For which we have to thank Lady Middleton, for her perseverance and her taste and her skill over the years. And nobody knew that on my wedding day I arrived to a brass fanfare composed for me. Thank you so much.
So finally, the answer to the question that I sense perhaps 99 per cent of you have been asking. Well here it is: Richard II Act 5 Scene 2.
Thank you very much, thank you more than I can find the words. Let me literally and figuratively take my hat off to you. Thank you.