Commemorating Lieutenant Basil Perrin Hicks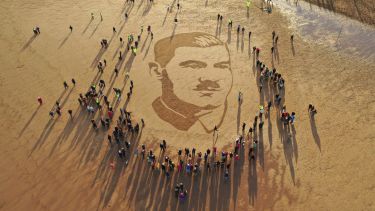 The University remembers Lieutenant Hicks through The Basil Hicks Lecture. This year, coinciding with the centenary of the end of the WWI, Lieutenant Hicks was also commemorated as part of film-maker Danny Boyle's Pages of the Sea project. Lieutenant Hicks was chosen as one of a number of soldiers from the First World War to have their portrait drawn on a beach around Britain, and then, as the tide rises, be washed away as attendees take a moment to say a collective goodbye.
Lieutenant Basil Perrin Hicks (1893 – 25 September 1915)
Educated at Hanover, Bonn and Cambridge, he joined the Inns of Court Officer Training Corps at the outbreak of war and received his Commission in September 1914.
Lieutenant Hicks went to the Front on 7 August 1915 as a Lieutenant in the 8th Battalion, Royal Berkshire Regiment. He was shot and killed whilst leading his men on the morning of 15 September, the first day of the three-month long Battle of Loos, in which 380,000 men lost their lives. He was just 22 years old.
After his death Lieutenant Hicks' Commanding Officer wrote:
"The Regiment has lost not only a charming companion, but a very clever and most promising Officer. I shall never be able to replace him. I was a great admirer of his work and, if he had only been spared, he would, I am sure, have made a name for himself. Nothing was too much trouble for him, and the Scouts, of whom he was in charge, just worshipped him."
Pages of the Sea was commissioned by 14-18 NOW, the UK's arts programme for the First World War centenary, and took place on 32 beaches around the UK. The portraits were chosen to represent a range of stories – ordinary people who gave their lives to the war effort.
The Basil Hicks lectures were endowed by Professor and Mrs Hicks, who envisaged that the lectures should "deal with some aspect of the Great War, either its origins, its conduct or its social and international consequences."
This year's lecture was delivered by Sheffield graduate Vice Admiral Sir Charles Montgomery KBE (BEng Electronic Engineering 1976, Hon DEng 2012) on the subject of 'Maritime Strategy – What Next?'. Sir Charles has had a distinguished military career and is the former Director General of Border Force UK.
Sir Charles Montgomery's lecture opened by remembering those who lost their lives in the war and outlining the background to Basil Hicks and the Basil Hicks lecture, before his keynote lecture focussed on Britain's maritime security.
He discussed how the sea is crucial to global trade - a huge natural resource that offers global prosperity. However, access to the sea is often taken for granted and can be abused through threats such as, terrorism and human and drug trafficking. Sir Charles looked into Britain's maritime strategy and how the UK needs to respond to the threats posed to that security. Sir Charles concluded that maritime security needs to be one of the nation's highest strategic priorities - to do this we need to better understand what happens in our own waters, invest, share knowledge with international partners and act early.
To learn about the impact of World War One on the University of Sheffield, please read the feature 1918: A pivotal year
To view the city's war memorials and rolls of honour, visit: www.sheffieldsoldierww1.co.uk/memorial
To view the University's own roll of honour, visit: www.sheffieldsoldierww1.co.uk/search_Memorial.php?id=267
Find out more about the 14-18 Now project commemorating the centenary of the First World War at: www.1418now.org.uk