COP26 and Sheffield's sustainable future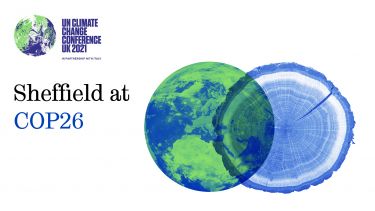 After drawing worldwide attention for 12 days in November, the United Nations Climate Change Conference drew to a close following a long series of talks, panels, debates and presentations, and culminating in a new global agreement.
Throughout the COP26 conference Sheffield had been making its presence felt, both through its delegates attending the summit, and through agreements announced away from Glasgow.
Jump to:
Dr Rachael Rothman, Academic Lead for Sustainability, said: "The two weeks have been intense.
"We've seen announcements and discussions involving Presidents and Prime Ministers from around the world and we still hold out hope for an impactful agreement that will keep us on track to limit global heating to 1.5 degrees above pre-industrial temperatures.
"A number of colleagues have attended COP26 talks in person. We sent ten official observers with access to the inner 'blue zone' of the talks. Seven of these observers were Grantham Centre PhD scholars who have gained a unique insight into climate governance.
"As Co-Director of the Grantham Centre for Sustainable Futures, I look forward to seeing how this experience will help shape their research and drive them forwards in their careers."
---
Charles Gillott, a PhD candidate and Grantham Scholar, described how he felt attending the second week of COP26.
"Although I was well aware of the diversity of issues surrounding the climate crisis, and by extension those covered at COP, being immersed amongst them really has made that hit home.
"It's refreshing to be reminded of that and the importance of periodically looking up from your own area of work to view the full horizon of the task in hand.
"I have walked away from some conversations feeling motivated and with new found energy, and others demoralised and in shock at the naivety of some people. I think that both these feelings, and both these types of conversation, are very important though!"
Mary Eliza, who observed the first week of COP26 events, summarised the urge to take action: "I was very emotional while listening to the climate campaigners from different countries, it was as if I had suddenly woken up and could see that climate change has already begun and is impacting much more lives than we can imagine.
"But I left the conference with the thought that we can stay within 1.5 ⁰C but only if we consider everyone part of the solution."
You can read a full series of posts from some of Sheffield's attendees on the Sustainability at Sheffield blog, or visit Sheffield's COP26 hub for all the attendees and activity.
---
Away from Glasgow announced plans for collaborations to keep the University and South Yorkshire at the centre of the energy transition we need to achieve net-zero.
The University signed an agreement for a pioneering collaboration with the energy storage and clean fuel company ITM Power that aims to advance the green hydrogen sector, providing zero-carbon fuel that can be used to decarbonise industrial processes, transport and heating. The agreement will see a new Gigafactory built at the University of Sheffield Innovation District in Tinsley along with a new National Hydrogen Research Innovation and Skills centre.
Professor Koen Lamberts, President and Vice-Chancellor of the University of Sheffield said: "We are very pleased to be launching this partnership with ITM Power. Hydrogen is one of the most exciting and promising clean energy solutions and ITM is at the forefront of green hydrogen manufacturing. This partnership is a milestone for both partners and the region in leading the way to achieving net zero through technological innovation."
Sir Roger Bone, Chairman of ITM Power, said: "The opportunity to partner with the University of Sheffield, recognised for its excellence in all aspects of industrial research, will enable both parties to train the next generation of hydrogen engineers and scientists, and continue to grow the company and the economy in the region. I look forward to seeing this relationship develop and prosper in the years ahead"
Read the full announcement for our collaboration into green hydrogen
---
The University also announced that the Nuclear AMRC will work with Rolls-Royce on the next phase of its small modular reactor (SMR) development programme, which the government confirmed £210 million funding for during COP26.
Secretary of State for Business, Energy and Industrial Strategy, Kwasi Kwarteng, visited the University of Sheffield's Nuclear AMRC to launch the new venture, which has been match funded by more than £250 million of private investment.
The Nuclear AMRC will work with Rolls-Royce SMR to develop the manufacturing capability for a variety of advanced processes, using the state-of-the-art machining, joining and testing facilities of the Nuclear AMRC's research factory in Rotherham. The centre will also support the design of a new UK factory for large SMR components.
Following this process development, the Nuclear AMRC will continue to work with Rolls-Royce to create a fully integrated pre-production proving facility for SMR manufacturing. The proving facility will be used to manufacture large-scale prototypes of the reactor pressure vessel and its closure head.
Read the full announcement for our collaboration into Small Modular Reactor development