Farewell to Ranmoor Hall of Residence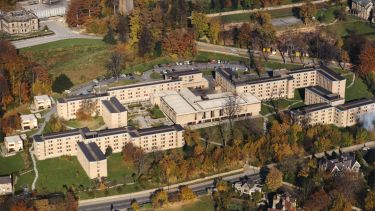 The event, which was organised by Accommodation and Campus Services, was a chance to celebrate Ranmoor's long history, as well as say goodbye to the buildings ahead of the latest phase of the student accommodation strategy.

Those who attended, including current and past students and staff, residents of the hall, wardens and tutors, enjoyed dinner and drinks, as well as the chance to mingle and reminisce.

"It was really nice, if somewhat bittersweet, to say goodbye to Ranmoor," said Sara Hilditch, who worked as a tutor and warden at the hall for 11 years. "I've had a long association with Ranmoor and it's strange to think that the buildings that hold so many memories for me will disappear. But, things move on and I'm sure that the new student accommodation will be absolutely fantastic."

After dinner Adrian Hall, the first-ever student of Ranmoor in 1968, shared his experiences of arriving three weeks before everyone else to set up the Hall's Junior Common Room (JCR). He also told the audience of early Ranmoorians' delight at being in one of the first mixed-gender halls of residence, saying that despite the sexes being segregated there was plenty of interaction between the two!

"Ranmoor has always had a great community spirit," said Katy Alcock, from ACS, who helped organise the farewell. "This event celebrated that spirit and allowed people, who maybe hadn't seen each other for years, get together and catch up. There was much talk of Ranmoor's future, as well as its great past."

Ranmoor is closing to make way for new accommodation and social facilities for students as part of the Student Residences Strategy. The new Ranmoor Village is scheduled to open at the start of the 2009/10 academic year.