Former Sheffield professor provides legacy of scholarships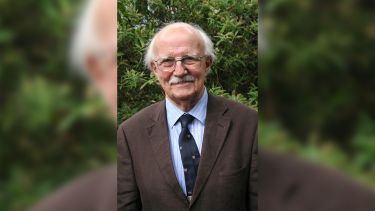 Professor John Roach, who died in July 2015 aged 95, has left an extremely generous legacy gift to the University of over £800,000, to be used for access awards and scholarships for students at the University. As there was no restriction in the Will as to a particular subject area of the University to be supported, the scholarships provided by this bequest can be used to support undergraduate and postgraduate students from across all subject areas. They will be named "The Roach Scholarships" in his honour.
Professor Roach's generosity was already known to us as he had donated a total of £10,000 to the University during his lifetime.
Born in Putney in 1920, Professor Roach was educated at Bedford School from 1931-38 where he enjoyed playing rugby, before studying at Corpus Christi, Cambridge graduating with First Class Honours. He then became a Fellow of Corpus Christi College, Cambridge and later Emeritus Professor of Education at the University of Sheffield. Professor Roach was an eminent historian and a much respected Head of Department. He is remembered by many colleagues who worked with him for his kindness and encouragement to them as young academics in the early years of their careers at Sheffield's School of Education. Professor Roach made a significant contribution to the study of the History of Education and his acute judgment, outstanding scholarship and generosity of spirit are warmly remembered.
As a student at Cambridge he was given exemption from being called up, however he chose to join the army. He joined the 1st Punjab Regiment (6th battalion) and was posted to India. It was thought that the regiment would serve in Persia (Iran) but at the last moment it was sent to Singapore which needed to be defended against the Imperial Japanese forces.
It was here that following the British surrender, he was captured and he spent three and a half years as a POW working on the infamous Burma/Siam "death" railway - where thousands of POWs died of disease, maltreatment and brutality.
After the war Professor Roach returned to Cambridge and after graduating in 1946 he taught at Haileybury, the boys' boarding school in Hertfordshire, before returning to Corpus Christi in Cambridge where he was given a research fellowship. He stayed in Cambridge for 16 years, in a number of roles including teaching history and as Domestic Bursar.
1965 saw Professor Roach moving to the University of Sheffield as Director of Education in the Department of Education, where he stayed until his retirement in 1985. During his retirement he remained in touch with the University, attending many events organised by the Development, Alumni Relations and Events office, including the opening of the Information Commons, the annual Heritage Circle Lunch and on one occasion presenting all the undergraduate scholarships funded by philanthropic donations at a special ceremony in Firth Hall.
Professor Roach was a distinguished author and his academic works primarily focussed on the history of education. In 1967 he wrote a History of the City and University of Cambridge which at the time was considered by some to be the standard history of the University. Later he compiled a book on the history of King Edward VII school in Sheffield. He was also on the editorial board for the University of Sheffield's Centenary History "Steel City Scholars". For many years towards the end of his life Professor Roach worshipped at St Mark's Church in Broomhill, and he spoke of the kindness and friendships he enjoyed among the congregation there.
We are extremely grateful to Professor Roach for his foresight and generosity in remembering our students in his Will. The Roach Scholarships that his bequest will fund will have a tremendous impact on the students who will benefit, and ensure that they can really make the best of their time in Sheffield.
Read John's oration from his entry into the University's Roll of Benefactors
For information about leaving a gift in a Will to the University of Sheffield, please visit our Legacies web pages or contact:
David Meadows - d.meadows@sheffield.ac.uk - 0114 222 1073
Development Officer – Legacies
Development, Alumni Relations & Events
40 Victoria Street
Sheffield
S10 2TN