Get a Life! - an alumni story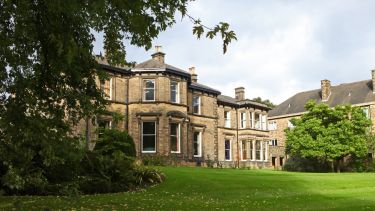 Last year, alumnus Stephen Ingle (BA Modern History and Government 1962, Dip Ed 1963, MA (Econ) 1967) paid a visit back to Sheffield and looked up some of his old haunts. Recently he wrote to us, reflecting on his trip, and how while many things have changed, the most important parts are still alive and well. 
I had just come out of the shower after a game of squash down on the Crew Hall court, when there was a knock on the door. It was an unusually discreet knock for my hall of residence. I say unusual because the inmates of Stephenson Hall didn't do discreet - ever. 
Intrigued, I opened the door, still drying my hair, to a substantial, rather rotund figure who said plaintively: "Oh, sorry, I can see this isn't a very convenient time...but I was wondering if I could just put my head round the door and have a quick peek for old time's sake. You see, I had this room myself over ten years ago and I've never been back to Sheffield since - til now. Been up on business for a couple of days and I had an attack of nostalgia. Just had to see Stephenson and my old room before I left town." 
I asked him to wait while I got some trousers on and then in he came. We had a lively little chat about what he'd got up to in Stephenson, the rascal, before he left for his drive back to Birmingham. I couldn't help thinking how sad is that? Ten years on and still with one foot firmly in the past. Ten years is a long time; ten years ago I was still at primary school working for the dreaded 11+ exam. Move on, mate: get a life!
Fast forward fifty years. Let me repeat that in case you missed it - fifty years later I came back, with five other former 'Stephensonians' on a visit to the old place. An attack of nostalgia multiplied by six. Well, as we took in the views from Oakholme Road it looked magically the same. Then we noticed that the tennis court had disappeared between the Hall and the Ashdell annexe. Worse was to follow. 
Our dining room had become a pool hall. Here, amongst these glossy tables, we had enjoyed formal dinners. Every mid-week evening at 6.30 we would troop in wearing compulsory white shirt and tie and academic gown – we were all males – and stand for grace, usually in Latin, said by the warden or someone else on High Table, where the resident academics would dine following their preprandial sherry. Here twice a year we would hold formal balls when we would wear evening suits and our female guests formal gowns, and we would hire a band and dance waltzes, foxtrots  and quicksteps, and every now and then the odd jive. Sometimes we even did the twist. That was my forte! And now the place resounded to the clack of pool and snooker balls. We were just a bit heartbroken. Yes, I know what you're thinking: how sad is that: fifty years on and still with our six feet in the past. Why hadn't we moved on? Why hadn't we got a life?
Thing is, we had! Got lives, that is. We'd gone very different ways, carved out very different lives, been all over, but none of us lost our affection for Sheffield and Stephenson, and here we were back again half a century later. 
A lot can happen in fifty years. West Ham won the FA Cup three times – that's how long fifty years is! When we were here the University boasted about 3,000 students - well, to be honest, I don't suppose it boasted about all of us - but now, so our guides from the Alumni Office told us, there were over 25,000. Whereas we'd had to fight hand over fist for every pint of Tetley's or Youngers No.3 or the magical local brew Ward's Ale, the modern Sheffield student confronts the longest union bar in the country. And yet...and yet... uncannily the same atmosphere seemed to permeate. Loads of bright, smiley young people clearly at ease. It was intoxicating really. Oh of course the facilities were far superior to ours but what struck us was the continuities not the differences. We felt at home.
And guess what? Ten years later – sixty years since we'd come up as undergraduates - we came back again. We stayed in the excellent Halifax Hall, wined and dined very well, were shown round some of the University's prime medical and engineering assets by a friendly and informative young woman from the Alumni Office,  took a trip into town, which had changed almost beyond recognition – and definitely for the better. And we remembered how green the Steel City is, and how close it lies to the beautiful dales of Derbyshire. And we went to our old haunt the Broomhill Tavern for a pint. Well, not all change is for the better: my pint in those days was 1s and 10d - the equivalent of 9 p.
Speaking personally, the life I got was shaped to quite a large extent by my experiences at Sheffield, especially the wider, informal aspects of education that came courtesy of long debates into the small hours with fellow Stephenson students from a whole variety of social and academic backgrounds. As you can see, I formed friendships at Sheffield that have lasted a lifetime! Still, lasting a lifetime is no more than you would expect from something forged in Sheffield.  Oh, and even more important, I also met the woman who would be the mother of my children! 
It was so good to come back and find the place as vibrant and as friendly as ever. Thanks, Sheffield. Keep up the good work.