Getting to know our newest honorary graduates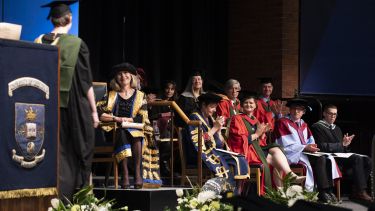 Among them were two graduates - George Ergatoudis and Douglas Young. Coincidentally, both are 1986 graduates of the School of Architecture, but they have each taken their careers in very different directions. We met up with each of them to get to know them a little better and to find out what makes them tick.
George Ergatoudis is one of the most influential and widely respected figures in the British music industry. Currently the UK's Head of Music at Apple, George has held key music roles for BBC Radio 1 and Spotify, and is credited with championing major new talent including Dizzee Rascal, Mumford and Sons, Ellie Goulding, The 1975 and Adele. In 2015, he was named in the Sunday Times-Debretts list of the 500 most influential people in the UK.
Douglas Young is the co-founder and chief designer of Hong Kong-based lifestyle and retail brand Goods of Desire (G.O.D.). He is a leading voice on design, the arts, creativity and entrepreneurship in Hong Kong, and has received many awards for his development of distinctive Hong Kong designs, including receiving a Ten Outstanding Designers Award by the Hong Kong Communication Art Centre in 2006, and being named Man of the Year by Hong Kong Business Magazine in 2009.