Golden Globe Race 2022 - Raising hope from start to finish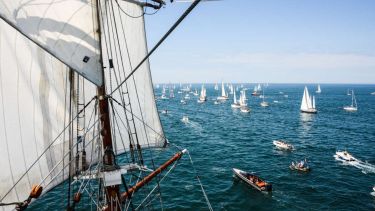 Congratulations, Kirsten! 
With an astonishing record of 235 days, 5 hours, 44 minutes and 4 seconds; Kirsten Neuschäfer became the champion of the Golden Globe Race 2022. And if this is not enough to start the celebration, she's also broken other records too! Kirsten is the first woman to win a round-the-world race by the three great capes, including solo and fully crewed races, non-stop or with stops. And she's the first South African sailor to win a round-the-world event! An incredible day to remember for Kirsten, and every aspiring female skipper.
A race for the bold
Over 235 days ago, sixteen fearless skippers sailed into the unknown from Les Sables d'Olonne, France. During this time, they faced relentless storms, the prospect of being away from home for almost a year, and fought every day to stay afloat. Getting closer and closer to the finish line and shouting 'land ho!', only five sailors remained in this exceptional race. On the afternoon of May 27th, the first sail came into view. It was almost time to welcome back these ocean adventurers and hear their powerful and inspiring stories. 
The Golden Globe Race (GGR) is a prestigious event that celebrates tradition, passion and kindness. Unlike current ocean racing, GGR renders tribute to the 'Golden Age' of solo sailing. This means all entrants must sail without modern technology, use similar yachts to this period of time and heavily depend on their sailor's skills - just like their patron, Sir Robin Knox-Johnston did in 1968.
During their 30,000 miles of non-stop world journey, skippers faced many unpredictable challenges. The strongest currents, relentless wind, or unfavourable weather conditions, couldn't keep these skippers from pushing through to their destination. This year, these daring skippers are supporting SITraN in its mission to help find treatments and cures for some of the most debilitating neurodegenerative diseases. Conditions such as Motor Neurone Disease, Alzheimer's and Parkinson's Disease.
SITraN - Working towards curing the incurable
---
We are thrilled to be associated with this prestigious event. GGR's support and awareness-raising will drive our research effort to a new level for the benefit of patients with neurological conditions.

Donations enable us to develop exciting discoveries, emerging from basic neuroscience research, into experimental medicine studies aimed at developing new treatments and better outcomes for our patients. Thank you and good luck to all the skippers!"

Professor Dame Pamela Shaw

Founding Director of SITRaN
---
Like the competitors of the Golden Globe Race, SITraN are explorers, venturing into uncharted territory. 
MND research has reached a point where life-saving treatments are potentially on the horizon. And SITraN is more than ready to be a frontrunner to find the answers. Its world leading researchers work tirelessly to find cures for debilitating neurological diseases, such MND, Parkinson's Disease and Alzheimer's. They're trialling groundbreaking genetic therapies. With the hope that successful therapies can be delivered to patients in clinics soon. And they're developing treatments that will improve the lives of patients long into the future. 
Around one in six people in the UK have at least one neurological condition. Your support will be the extra wind behind their sails to come closer to find a cure or the treatment so many patients desperately need.
Don't let them face this alone, let's bring hope together.