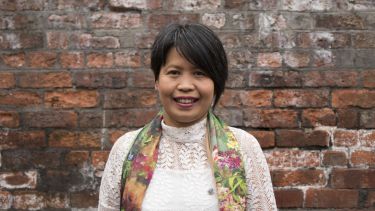 Three women from Sheffield raised over £1,700 towards the Sheffield Scanner appeal after being taking on sponsored haircuts.
Keng is the owner of two local Thai restaurants, Thai Thai Ka in Broomhill and Thai at the Travellers in Holmesfield.
Having lost her sister to cancer 5 years ago, Keng decided on an unusual way to raise funds in her sister's memory for cancer research. She grew her hair long over a period of three years and recently had it cut short in order to donate the hair to a charity for it to be made into a wig for a chemotherapy patient.
With some trepidation Keng let her parents take the first snips of her by now very long hair, before submitting to the expert scissors of her hairdresser. Delighted with the results, Keng has been complimented on her new look and been told she looks 10 years younger!
Sala followed the example of her employer, Keng Wragg, the following year. It was at the Christmas party at Thai Thai Ka for employees of local company, Stylebar on Ecclesall Road, that chef Sala spoke about her plan to grow her hair and have it cut short in 2 years' time. Without hesitation, Stylebar's manager Kevin offered to donate £500 if Sala would have her hair cut straight away. Sala bravely took the plunge and by the end of the evening other donations had flooded in from Stylebar's employees and from Sala herself, making a grand total of £1,000.
Artitaya Hongsuwan, 18, continued the trend later in 2018, raising more than £250 for the Scanner Appeal thanks to her sponsored haircut. Artitaya's long locks were past her hip before taking the chop and undergoing a dramatic transformation.
"I wasn't really nervous until it came to the day itself and I realised what a big transformation it was going to be," said Artitaya.
"My mum's friend had read about the appeal on the internet and I thought it would be a great thing to do. It was really kind of my family and friends to sponsor me.
"It is really nice knowing that the scanner will go on to help not just one or two people but so many people across the whole region."
All three have donated their hair to a charity that makes wigs for chemotherapy patients.