Leading female financial expert awarded Distinguished Alumni Award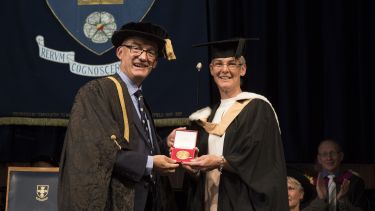 During the Summer 2017 graduation week Sheffield Natural Environmental Science alumna Sarah Evans was awarded the Professor Robert Boucher Distinguished Alumni Award, celebrating her rise to the top of her profession in the financial sector and the wine trade, two areas of business that have traditionally been dominated by men.
The award recognises alumni who have achieved distinction in their profession and made outstanding contributions to business and community life and is named in honour of our late former Vice-Chancellor.
Sarah grew up in North London and came to Sheffield in the early 1980s, to read Natural Environmental Science, a broad-based course, which combined botany, geography and geology.
Sarah was and continues to be, a keen sportswoman. At Sheffield, she played lacrosse for the University and was a founding member of the University Ladies Cricket Team where she regularly opened the bowling.
Sarah graduated from the University of Sheffield at a time of high graduate unemployment. With few opportunities for employment within the environmental sector, she transitioned her skills towards finance. She joined Price Waterhouse and qualified as an accountant in 1989. Her experience there was varied and included a secondment to the firm's office in Prague.
Returning to the UK in 1991, Sarah was seconded to the recently created Serious Fraud Office and was thus among the first cohort of accountants to specialise in the area of forensic accounting. Seven years later, she was headhunted by Ernst & Young and spent 10 years as a partner, rising to be head of department, specialising in financial crime and regulatory investigations.
Looking for a change of direction, Sarah then joined the board of Ipswich Building Society, which has branches and agencies throughout Suffolk. In 2013, she was elected Chairman, the first woman to hold this position since the society was established in 1849. Today, she is one of nine female Chairmen among the UK's 44 building societies.
Sarah has also been a member of 'The Wine Society' since 1998, and in 2009, based on the strengths of her professional background and experience, she was elected as its Chairman, the first woman to hold this position in the society's 143-year history. Under her leadership, Sarah has done much to make it more open and accessible for both its members and employees. Today the society has an active membership of 138,000, with an annual turnover of over £90 million.
The Professor Robert Boucher Distinguished Alumni Award
The Professor Robert Boucher Distinguished Alumni Award, for alumni of the University, is named in honour of the late former Vice-Chancellor Professor Robert Boucher.
Professor Boucher had a great interest in alumni relations and gave so much to the city of Sheffield over a period of 40 years. He fully appreciated the important contribution that alumni continue to play in the life of a University and was responsible for establishing the University's Development and Alumni Relations Office in 2002.