A legacy worth hearing about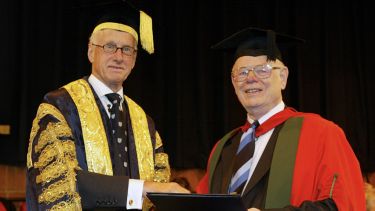 That is precisely what Dr Alan Kelly, one of the world's most distinguished discographers, has done through a gift to Sheffield in his Will.
What does discography mean?
A sound question indeed! It means the study and cataloging of published sound recordings, often by specified artists or within identified musical genres. Dr Kelly dedicated his life to this art and became one of the world's most respected discographers. This dedication and achievement was recognised by the University in 2007, bestowing upon him an honorary doctorate of music - a first for a British discographer.
Dr Kelly chose to repay this honour by leaving the University two generous gifts in his Will following his death in 2015.
He firstly donated £100,000 for an endowment which has been allocated to the University's general endowment fund. The annual income on the endowment has been matched by the University for the foreseeable future which makes Dr Kelly's generosity all the more invaluable.
The fund is used for:
supporting students who are in desperate financial need
ground-breaking departmental projects and vital academic recruitment such as fellowships
enhancing the student experience by investing in student-run clubs and societies to ensure students get the most out of their time in Sheffield and to prepare them for the world of work and life after University
Dr Kelly also contributed a massive £50,000 to deafness research here at the University. His legacy funded a series of six instructional videos - 'Supporting Communication with Deaf Babies and Toddlers', which at the last count has over 2,000 views on YouTube. That is 2,000 families who have gained valuable knowledge and understanding of communicating with their children during a critical time of learning and development.
Danielle Matthews - a University researcher whose work has benefitted from Dr Kelly's legacy gift - adds:
This work has reached an international audience and the donation to the University has made it possible to bring all of this work to fruition. Without it, promising work would certainly have stalled - findings would not have been published and the videos needed for families could not have been made. We are incredibly grateful."

Danielle Matthews

University researcher
University of Sheffield academics and researchers worked closely with other specialists in the field and, most importantly, families, to make sure these videos are evidence based, practical and informative. Dr Kelly would surely be proud to see his contribution helping those families make important choices about their children's futures.
Given that communication and music are so inextricably linked, it is truly fitting that Alan has given the gift of both.