A life on the boards - Chess at Sheffield in the 1970s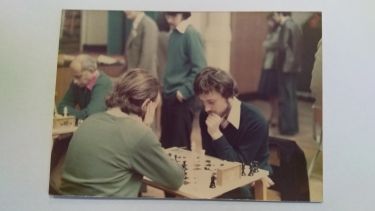 One of the unexpected joys of Lockdown for me was being reunited, after more than four decades, with my Sheffield University Chess Club friends.
I arrived in Sheffield in late September 1975, attracted to Sheffield initially because I supported Sheffield Wednesday. However, that was soon overtaken in importance by the presence of Tony Miles, World Junior Chess Champion, 1974, and subsequently the first British Grandmaster. He was a third year Mathematics student when I arrived and Sheffield became a magnet for other chess players, including Tony Kosten, who also went on to become a Grandmaster. There were two other players who at that time had grades over 200. One was Peter Large who was the year above me. The other was Richard Britton, who was in the year below with Tony Kosten.
Tony Miles took a sabbatical during his third year to begin a full-time career as a professional chess player. He never finished his degree, but the University awarded him an Honorary MA for services to chess in 1975. Sadly, he died in 2001.
Fresher's week included a lightning chess tournament, ten seconds per move, and the results were used to populate the University B team, under Steve Goodman's captaincy. Steve was a great captain and the same eight players pretty much played in all the Sheffield league matches. There were four teams in the Sheffield league, and during the seventies we won The Davy Trophy five times and The Weston Trophy three times. We also fielded a team in The Woodhouse Cup, effectively the Yorkshire league, which involved travelling all over Yorkshire to play on Saturday afternoons.
The club also entered BUCA, the British University Chess Association inter-university tournament, hosting it in 1975, thanks to Paul Hanks, a veteran of four BUCA tournaments (1973-1976). We won it in Swansea in 1977. The club was thriving and when we were not playing matches or at lectures, we congregated in the club room, which we shared with the Bridge Club in the old Students' Union building.
I have many happy memories of our time together: I ate my first curry one Saturday evening after a Woodhouse Cup match against Rotherham. I shared a flat, just off Brocco bank, with Peter Large in my second year and in the third year another strong chess player, Rod Newbery, joined me. We often came back to the flat after matches to analyse games while listening to music until the early hours. Chess was almost exclusively played by males back then, but we had one very strong female player in this era, Clare Whitehead.
I stayed in Sheffield until 1986, when I moved to London, but gave up chess completely in 1984 to focus on my work and sadly lost touch with my dear chess playing friends in those pre-email, pre-WhatsApp, pre-internet days.
I returned to playing chess towards the end of my full-time career in 2014, playing for a London club. On my return to chess, the biggest transformation since I stopped playing was, of course, the internet. Computer chess was not available to ordinary players in our day, and other than correspondence chess, the only way to play a game was to be in the same room as a person together with a chess set. Today, the online chess sites have tens of thousands of players at all times of the day and night. Games can be analysed in great depth with one click.
Charles Higgie, who I met as a fellow fresher in 1975, unexpectedly got in touch shortly after lockdown. He has been an active chess player and organiser ever since leaving university, although in his case with an 18-year sabbatical. He had already linked up with other ex-Sheffield University chess players from the 1970s and I was delighted to join. Others have joined subsequently. Online, it was relatively easy to set up teams to play in national and local leagues with players scattered all over the country, something that was impossible in my student days. Charles has an ex-Sheffield University team playing in the 4NCL (4 Nations Chess League), 5 Counties Online League and the Chess 2020 International Quick Play League.
I have not set eyes on any of my team mates for more than 40 years, but playing in a team with them, albeit remotely and without the joy of being in the same room, has nonetheless been a pleasure. One highlight was a match against current Sheffield University students, captained by James Luong, which we  played last summer. The Old Boys were narrowly beaten on the top four boards, but a strong performance on the bottom three boards delivered a 4.5 to 2.5 victory to the 1970s graduates.
|   | Sheffield Uni 2021 |   |   |   | Sheffield Uni 1970s |
| --- | --- | --- | --- | --- | --- |
| Board 1 | James Luong | 0.5 | vs | 0.5 | Phill Beckett |
| Board 2 | Kacper Mytnik | 0.5 | vs | 0.5 | Charles Higgie |
| Board 3 | Kyle Reed | 1 | vs | 0 | Bob Taylor |
| Board 4 | Alec Morgan | 0.5 | vs | 0.5 | Brian Moore |
| Board 5 | Alexander Pelosof | 0 | vs | 1 | John Walmsley |
| Board 6 | Jamie Wright | 0 | vs | 1 | Chris McSheehy |
| Board 7 | Oliver West | 0 | vs | 1 | Richard Hughes |
Today, the University Chess society is run by a small committee of five people, holding weekly chess nights on Tuesdays 7-9pm at Hicks Building LT4. There is a regular turn out of 30-40 people every Tuesday, with over 100 people in the first session around three months ago. No doubt, as in many other chess clubs, boosted by the popularity of the TV series 'Queen's Gambit'.
The chess club plays in the: UKUCL (against other universities), World 2020 Chess Championships and the Sheffield online league. 
Written by Richard Hughes (Sheffield University 1975 to 1978) with thanks to Charles Higgie, Bob Taylor and James Luong.