Meet our new International Alumni Relations Manager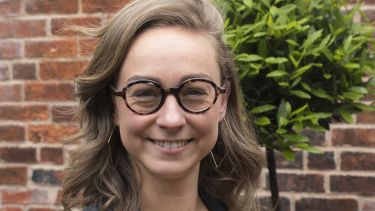 When did you come to Sheffield and what did you study?
I came to Sheffield in the autumn of 2009 to participate in the Erasmus programme. I studied subjects relating to management and sociology because I was very interested in social behaviour as well as business and my time in Sheffield allowed me to study these subjects academically. I remember how much passion my lecturers at Sheffield had for their topics and how it inspired me to do really well.
What was it like coming over to Sheffield as an Erasmus student?
Being an Erasmus student in Sheffield was fantastic. From the moment I arrived at Manchester airport until I left I was welcomed with a friendliness that I now know is one of Sheffield's peoples' defining features and made Sheffield feel like a home away from home in an instant.
I remember how everyone kept calling me 'love' and 'duck' in the shops or on public transport or how you thank the bus driver when you leave the bus. All of this creates a sense of familiarity and a feeling of being welcomed by the people of Sheffield.
I opted to stay in University accommodation because I wanted to get this real 'campus-living' experience and I am incredibly glad I did so. I stayed in Crewe Flats in one of the bigger downstairs rooms with a shared bathroom and kitchen and I met some of, who are today, my best friends in Sheffield.
What made you decide to come back to Sheffield?
I came back to Sheffield because my partner and I were looking to move somewhere where we could be together. At the time we got together, he was living in a town in Nottinghamshire and I was living and working in Stockholm.
We met each other during my Erasmus at Sheffield University and because we both had such a fantastic time in Sheffield we decided "let's find jobs in Sheffield and move back there" and so we did! Since then we have bought a house and have a cat and we're having a fantastic time in a city we both love.
What have you done since university?
My career since university has been quite varied but has always been around working with people and building relationships. I ran an international student-volunteering organisation, AIESEC, in The Netherlands for one year, which led me to be recruited into the management consultancy Booz & Co, which is now part of PwC.
After doing that for a while, I went back to university to get my Master's Degree in Corporate Communications. Because I felt like I wanted to live abroad again I applied for a job at Electrolux in Sweden to manage their global internship programme. Luckily, I got the job so a month or so after finishing my master's I went to Sweden to live and work. I lived there for 1.5 years and then handed in my notice to move to Sheffield for love!
What are your plans for working with our graduates all around the world?
As International Alumni Relations Manager I am responsible for helping international alumni keep in touch with their alma mater and ensuring they have one point of contact within the University.
We have many alumni who are keen to give back some of their time through volunteering opportunities, are looking to donate or raise funds on behalf of the University, or are looking to work more closely with the University from a business point of view. I help connect the right people with each other and create opportunities beneficial for both sides. It is a job I enjoy incredibly!