Meeting the University of Sheffield Mexican Alumni Association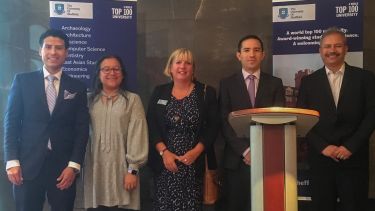 The Alumni Association's launch took place at the British Ambassador's Residence in Mexico City. It was an all Sheffield Affair with ambassador Corin Robertson herself being from Sheffield and over 100 Sheffield alumni attending the event.
The event itself saw over 120 attendees including Sheffield alumni from across Mexico, as well as representatives from government, private and not-for-profit sectors, including strategic partners Anita Sandham from the University's Global Engagement Team, Mr Ricardo Peralta, Mexico's Deputy Minister for the Interior and Mr Raul Penafiel Garcia, CEO of Jaguar Land Rover Mexico, to meet and forge friendships and plan for long-standing strategic relations.
The event was coordinated by the President of the Mexican Alumni Association, Jose Angel Garcia (MA Governance and Public Policy 2011, PhD Politics 2018), along with Martha Avalos (PhD Geography 2018), Roberto Mendoza (MA Governance and Public Policy 2011) and Martin Legarreta (PhD Probability and Statistics 2014). Together the team hope to build an alumni association that not only facilitates networking between its members, but more importantly, contributes to improve the University's international prestige and open up new opportunities for alumni's professional careers.
Being a proud Sheffielder, Her Majesty's Ambassador Corin Robertson kindly hosted us at the Ambassador's Residence. During her welcome speech, she recognised the international reputation of the University of Sheffield, the value of forging and strengthening the university-alumni connection and the relevance of the University of Sheffield's role in UK-Mexico education collaboration.
Alumni enjoyed a pleasant networking evening, where they reminisced about their time in Sheffield, revived old friendships, and even had a taster of Jaguar's new British automotive technology.
Speaking about the Association, President Jose Angel Garcia reflected on the great honour and challenging responsibility of leading the organisation, and expressed his pride in serving the University's alumni together with his compatriots Martha, Roberto and Martin.
In future, they hope to continue fostering the growth of new friendships between alumni and partners through more networking events across the country, as well dinners and high profile lectures in collaboration with other Russell Group Mexican alumni associations.
If you are one of our alumni in Mexico please ensure you update your contact details to make sure you hear about any upcoming events.
The group would like to express their thanks to FUNED, Jaguar Land Rover and the University of Sheffield for their sponsorship of the event.