Once a soldier, twice a legend - Colonel Leslie Wright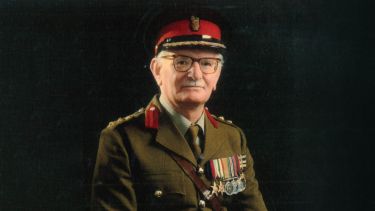 Loved and respected by everyone who knew him, Colonel Leslie Wright had what you might call an eventful life. Machine gunned from the air in the throes of battle in Calais, stopping a bullet with only the brim of his helmet. His response to this near death experience? 'It showed the advantages of British manufacture in having such a wide rim.'
This was not Colonel Wright's only near death experience in Calais. In his book, Once a Soldier, Twice a Citizen, Colonel Wright describes the enemy closing in on him and his comrades under a harbour jetty in 1940. A British ship appeared and the Captain shouted out to the freezing soldiers that he was unable to stop and they would have to jump. Colonel Wright was the last to make that jump, making him the last British soldier to be rescued from Calais by the Navy. Quite a claim to fame. Colonel Wright kept in touch with that Captain - and later his son - for the rest of his life. 
Married during the war in 1941 in his beloved Bakewell, his military career was a long and illustrious one, but it was those experiences of war which were the source of the greatest pride for Colonel Wright. Awarded an honorary Master of Arts in 1986, he had a deep rooted connection with this University which resulted in him attending every event possible - and, as befitting his character, would always carry speech notes in his pocket in case the designated speaker was unable to attend. Whenever he was asked to be a speaker himself, he recounted the story of Calais leaving the entire audience enraptured.
This experience undoubtedly shaped his life and enabled him to become the respected and personable man he was. His personality always made him a favourite of University staff and we were honoured when Colonel Wright thought to leave a legacy to the University in his Will. He always spoke so highly of the University and regularly donated to the Alumni Fund during his lifetime. It was therefore appropriate for us to allocate his lasting legacy to the Alumni Foundation so that he could continue to support the student and the work of the University he loved so much.
The Alumni Foundation is a grant-making committee that distributes the philanthropic donations from alumni and friends to the most deserving recipients. The Alumni Foundation embodies the importance of extra-curricular activities and projects which help students to develop lifelong skills, connect with the local community and enhance the student experience.
Due to Colonel's Wright's love of the military, it was truly fitting to be able to allocate his legacy donation to the Simurq Aeronautics Society for their Volaticus project. They are an aerospace oriented society led by students studying multidisciplinary engineering and computer science courses. Volaticus wanted to take part in a competition organised by the Institute of Mechanical Engineering (IMechE) called 'UAS Challenge'. Their goal was to design and build a drone which has to perform a specific set of tasks including autonomous take-off and landing, following GPS coordinates, image processing and target recognition.
The project made use of the University's iForge's facilities, an engineering makerspace in the Diamond building. This space has recently been used by our engineers for making PPE equipment to send to frontline healthcare workers in the response to Coronavirus.
We think and hope Colonel Wright would be proud of Volaticus, and we will never forget the impact he had on the University and all of those who knew and loved him. A determined man to the last, still riding his bike around the streets of Bakewell well into his nineties, the next generation of students can certainly learn a huge amount from this legend.
If you would like further information about leaving a gift to the University in your Will, please contact the University's Legacies Officer, David Meadows, by phone on 0114 222 1073 or by email at d.meadows@sheffield.ac.uk.