Professor's final wishes honoured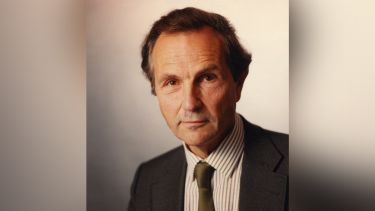 As Dean of the School of Clinical Dentistry and Professor of Dental Surgery throughout the 1970s and 1980s, he inspired many. And the gift he chose to leave to the University in his Will is continuing his legacy of support that he maintained throughout his lifetime.
It's been more than thirty years since Sir Paul retired and ten years since he informed us that he'd pledged to leave a gift in his Will. Now, that £2,000 has been put straight to good use. 
As per his wishes, the donation is helping dentistry and medical students who are struggling financially. With increasing numbers applying to the University's Hardship Fund, his foresight and generosity is proving a timely lifeline for those in need.
A life less ordinary
Sir Paul's life was certainly not what you'd call run of the mill. From being called up to the Army Dental Corps during his studies, to running a 100 bed hospital in a remote area of Kenya with his wife in the 1950s, to living until the magnificent age of 97, he certainly didn't do things by halves.
During his studies at Birmingham University in the 1940s, the young medic volunteered to be a night watchman and deal with incendiary bombs. In the end, over 200 bombs were dropped on the city's hospital and medical school during this time. Whilst studying, Sir Paul also spent two years as a dental officer in Palestine, which involved undertaking parachute training that saw him jump with his dental equipment many times. These wartime experiences, both in Birmingham and in Palestine, sparked his interest - and subsequent prestigious career - in oral and maxillofacial surgery.
Sir Paul's career was honed here at the University of Sheffield. He was Dean of the School of Clinical Dentistry from 1972 until 1975, and Professor of Dental Surgery from 1969 until his retirement in 1988. In 1984, Sir Paul's services to dentistry were recognised by a knighthood and, ten years later, he received his honorary MD from Sheffield. His talent, dedication, and achievements in the world of dentistry were recognised even then, with his oration from that ceremony declaring:
We honour today a man who had had a profound influence on the dental profession in this country and abroad, and who had made a lasting contribution to the University of Sheffield"
Sir Paul and his beloved wife Morag, who met on a walking holiday in the Lake District in 1953 and went on to have four children together, supported Sheffield students in need during their lifetimes. It was therefore truly fitting they both thought to carry on that legacy so that future generations of medics could receive the financial assistance they need, to help them stay and succeed on their courses, perhaps even going on to follow in Sir Paul's distinguished footsteps.
Those who knew Sir Paul remember him for his generosity of spirit, kindness and humility. His former students and colleagues remarked on his abilities as a mentor and professional guide. The University of Sheffield would like to thank Sir Paul on behalf of future students who will benefit from this kindness and guidance in an uncertain post-pandemic world. 
Leaving a gift in your Will
If you would like further information about leaving a gift to the University in your Will, please contact David Meadows. David is our Philanthropy Manager for Legacies and Individual Giving and a Sheffield graduate himself. He would love to have a confidential chat with you about legacy giving or your specific wishes.
Telephone: 0114 222 1073
Email: d.meadows@sheffield.ac.uk