Help students affected by the Coronavirus pandemic.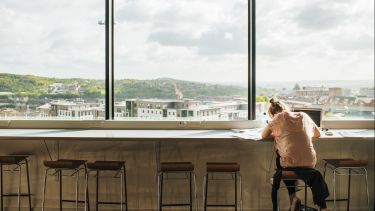 Unforeseen hardship
March 2020 saw four times the usual number of student requests for emergency financial support. The knock-on effect of the Coronavirus has meant many students are now facing serious financial hardship. 
Staff in Student Support Services have been working tirelessly to help as many students as possible. But as we all come to terms with the challenges of a global pandemic, we know more students will need urgent financial support in the weeks and months ahead. 
You can ensure there is help available for students, by making a gift to the Hardship Fund today.
---
The effect on students
Many, many students work part time to supplement their income whilst at university. But the closure of nearly all retail, hospitality and leisure outlets, has meant students on temporary or zero hour contracts were some of the first to be let go by their employers. 
Like all of us, students have bills to pay. Therefore, losing regular income, no matter how small, is having a significant impact on their already tight budgets.
Students are struggling because:
Many are locked into tenancy agreements with private landlords, paying between £300-£400 per month
Rolling costs for utilities and insurance don't stop
Last minute travel has proven expensive; especially for international students and those returning from studying abroad
Obtaining reliable technology and resources to study off campus is essential but costly
Those with young children are juggling their studies with childcare; whilst some continue to pay nursery fees
The University is doing all it can. Students previously living on campus, who have returned home, have been relieved of further accommodation charges. And any students employed by the University, who had work cancelled due to the outbreak, have either been paid in full or furloughed.
Of course many students will have returned home to be with their families, who can offer financial and emotional support. But sadly this isn't the case for all. For those students from low-income households, estranged from their families, international students and students from care backgrounds, reaching out to family and friends can be difficult, or impossible.
By making a gift today, you can be there for them
Your donation will help provide a Hardship Grant to a student whose financial difficulties are affecting their studies and their wellbeing. Life can be lonely for these students at the best of times, and a crisis only amplifies these feelings. You can ensure those who are struggling, get back on track to achieve their full potential.
Your support will provide a vital non-repayable grant to those experiencing unexpected financial difficulty. This means you'll help students in need right now and in the future, as the full extent of the situation reveals itself.
£25 could help a student with their weekly shop
£50 could cover an outstanding utility bill
£300 could help a student buy a basic laptop 
£1,000 could cover the cost of a flight home
Please consider making a gift to the student Hardship Fund today.